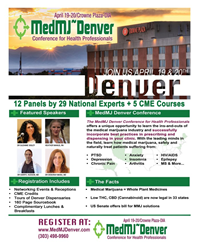 San Francisco, CA (PRWEB) April 09, 2015
Heliospectra AB (OTCQB: HLSPY, FIRSTNORTH: HELIO), a world leader in intelligent lighting technology for greenhouse cultivation and plant research, today announced that its Director of Medicinal Plant Research, Dr. Sue Sisley, will give a keynote address, entitled "The Research Imperative" at the upcoming MedMJ Conference in Denver, Colorado. The presentation will be made on Monday, April 20th, 2014 at 11:00 AM (Mountain Time) in the Vail Ballroom at the Denver DIA Crowne Plaza.
Dr. Suzanne A. Sisley practices medicine in Scottsdale, AZ and specializes in Internal Medicine and Psychiatry. She is widely known for her research into potential medical uses of marijuana to treat veterans diagnosed with Post-Traumatic Stress Disorder - PTSD. Dr. Sisley's research is supported by the Multidisciplinary Association for Psychedelic Studies (MAPS), a California-based nonprofit organization.
In February this year Dr. Sisley was also appointed Director of Medicinal Plant Research at Heliospectra AB. Where her groundbreaking research will help customers understand what chemical profiles a medicinal plant therapy should express, and how to develop scalable medicinal plant growing methodologies.
The MedMJ event will offer real world knowledge and reliable data about medical marijuana, from emerging state medical marijuana laws, to healthcare liabilities and groundbreaking patient research and development. For further information regarding this event click on http://www.medmjdenver.com
About Heliospectra AB
Heliospectra AB (publ - listed on NASDAQ OMX First North HELIO ISIN SE0005933082 as well as North American ADR OTCQB: HLSPY Cusip: 423281104) (http://www.heliospectra.com) specializes in intelligent lighting technology for plant research and greenhouse cultivation. Heliospectra products are based on in-depth knowledge in plant physiology and photosynthesis along with a unique way to utilize modern LED technology. After six years of development in Sweden, the company has now begun to expand into the international market. The company has raised more than $15 million in venture capital and has received more than $2.6 million through academic scholarships and grants. It has also received numerous awards for its forward thinking technology. Principal owners: Weland Steel http://www.welandstal.se, Swedish Industrial Fund http://www.industrifonden.se, Midroc http://www.midroc.se, Wood & Hill Investment http://www.whab.se
Contact
Investor Relations:
Michael Swartz
Analyst
Viridian Capital & Research, LLC
212-333-0257
mswartz(at)viridiancr(dot)com
Staffan Hillberg, CEO
Heliospectra AB
+46-708-36 59 44
staffan.hillberg(at)heliospectra(dot)com
Lars Sjögrell, Press Contact
Heliospectra AB
+46-702-69 53 00
lars.sjogrell(at)perspective(dot)se
Chris Walker, General Manager USA
Heliospectra, Inc.
520-971-1031
chris.walker(at)heliospectra(dot)com