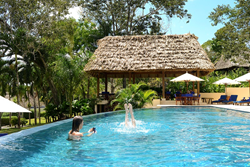 Articles like the National Geographic piece set the bar pretty high and raise expectations, but we're confident in being able to meet and exceed them
San Ignacio, Belize (PRWEB) April 11, 2015
A recent National Geographic article highlights a growing new trend in Belize tourism that sees more and more travellers choosing to explore the little country's inland attractions rather than spend their entire vacations on Belize's Caribbean seacoast, according to the owners of Belizean eco resort The Lodge at Chaa Creek.
Lucy Fleming, who with her husband Mick opened The Lodge at Chaa Creek on Belize's Macal River in 1981, said that such articles are indicative of a shift in Belize's reputation as primarily a Caribbean sea destination and premier dive spot.
"Not so long ago, when you mentioned Belize, you received blank looks. By the 1980s, as word spread, people would respond with comments like, 'Oh yes, that's where Jacques Cousteau explored the Blue Hole. The beaches and diving sound great.'
"Now, more and more, people are mentioning the pristine rainforests, wildlife and Maya temples and sacred caves. Media attention like the recent National Geographic article is helping to drive a trend towards inland adventures, and we think that's great," she added.
The March 27, 2015 feature in the National Geographic Traveller, "Seven Perfect Days in Belize", by Costas Christ, begins with days one and two at The Lodge at Chaa Creek, followed by an excursion down the picturesque Hummingbird Highway to the coastal village of Placencia.
Mr Christ reported that: "I have been traveling to Belize every year for more than a decade and am already planning my next trip.
"Local residents are fun-loving, friendly, and appreciate nature; nearly half of the country is protected rain forest… Just offshore lies the largest barrier reef in the Northern Hemisphere… Belize's subterranean rivers make it possible to explore the country's elaborate underground cave system—which might be the most extensive on Earth (National Geographic explorers have been mapping it since the 1960s)… There are also dozens of Maya archaeological sites," he wrote.
Ms Fleming said that, "Experienced travel writers like Mr Christ appreciate how diverse Belize is, and now that appreciation is spreading to the general public through numerous articles, documentaries and word of mouth.
"In fact, Belize has developed a reputation for offering two different vacations for the price of one, in that you can be exploring jungles with Maya temples and ancient cities in the morning, and then be snorkelling off white sandy beaches in crystal clear Caribbean water after lunch.
"We're pretty unique in that regard," she added.
Only some 180 miles (290 km) along its Caribbean coastline, and 68 (110 km) miles wide to the Guatemala border, Belize nonetheless enjoys a richly diverse landscape supporting a multicultural population, Ms Fleming explained.
The offshore Belize Great Barrier Reef shelters hundreds of tiny islands known as cayes, and a sparsely populated coast dotted with villages with names like Gales Point Manatee, Hopkins, Seine Bight, Placencia and Monkey River.
Inland lie the Maya Mountains, Mountain Pine Ridge, vast tracts of protected wilderness, hundreds of ancient Maya archaeological sites including the sprawling metropolis of Caracol, the well preserved pyramid at Xunantunich and artefact-laden ceremonial caves such as Actun Tunichil Muknal.
"It used to be that people would come here for the diving and coastal attractions. Now, we're finding a growing number of travellers coming specifically for inland experiences.
"It's an audience that we've been catering to for decades, but has recently grown in leaps and bounds," Ms Fleming said.
The Lodge at Chaa Creek has evolved from the Fleming's small family farm to a full service eco resort surrounded by a 365-acre private nature reserve with a network of jungle trails connecting the main lodge to a fine dining restaurant, lounge, infinity pool, spa, conference centre, Belize Natural History Museum, butterfly farm, horse stables, canoe fleet, informative Maya medicinal plant trail and Maya organic farm that also supplies the restaurant with fresh produce.
Accommodation ranges from luxurious, with private Jacuzzi and Treetop suites, to the more rustic Macal River Camp. Mid-range are Chaa Creek's signature thatch-roof, artistically appointed cottage rooms.
Ms Fleming said the growing popularity of Chaa Creek's all-inclusive "Rainforest to Reef" Belize vacation packages also reflect the trend to combine Belize's inland and Caribbean attractions in one holiday.
"With our long-established network of colleagues throughout Belize, and improvements in infrastructure, such as the nearby airstrip at Maya Flats, more and more guests are taking advantage of being able to enjoy so many diverse experiences in such a quick, easy and seamless manner.
"Articles like the National Geographic piece set the bar pretty high and raise expectations, but we're confident in being able to meet and exceed them.
"Belize is that kind of place," Ms Fleming added.
The Lodge at Chaa Creek is a multi award winning eco resort set within a 365 acre private nature reserve along the banks of the Macal River in Belize.
ENDS