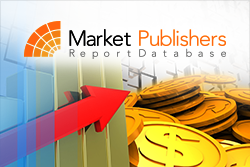 London, UK (PRWEB) April 10, 2015
Market Publishers Ltd announces that new MarketsandMarkets reports on various markets have been recently added to its catalogue.
Urinalysis Market by Product (Dipstick, Reagent, Urine Analyzer, POC), Test Type (Biochemical, Sediment, Microscopic), Application (Diagnosis, Diabetes, UTI, Kidney Disease, Pregnancy), End User (Hospital, Research Institute, Home) - Forecast to 2019. The market for urinalysis systems is driven by multiple factors such as increasing prevalence of kidney diseases and UTIs, technological advancements, a rise in geriatric population, and more. The market is expected to reach almost USD 1,890 million by 2019, growing at a CAGR of approximately 8 percent. The research report offers a comprehensive guide to the global market for urinalysis systems. The study examines market segments in detail, uncovers market drivers, restraints, challenges and opportunities. The report canvasses key regional and country markets, investigates the competitive landscape and profiles top players. It also forecast future development trends of the market.
Fiber Optic Beam Expander Market by Design (Galilean, Keplerian), Device (Optical Communication, Measurement, Laser Systems, Remote Sensing), Application (Defense, Instrumentation, Industrial, Commercial), & Geography - Global Forecast to 2020. The global fiber optic beam expander market grows rapidly, encouraged by increasing demand from end-use markets. However, the market faces some challenges related to manufacturing, fabrication, and beam alignment. Some of key market players comprise: Sill Optics GmbH, Qioptiq, Diamond SA, to name a few. The research report offers a bird's eye view of the global fiber optic beam expander market. The study explores market segments, delves deep into market dynamics and insightfully analyses industry trends. The report scrutinizes regional as well as country markets, cats light on the competitive landscape and contains profiles of top companies. It also includes future development forecast for the market.
Digital Marketing Software Market by Software (CRM, E-mail, Ecommerce, Marketing Automation, Web Analytics, Web Content Management & Social CRM), by Deployment (On-Premise, Cloud), by Verticals (BFSI, Retail, Manufacturing, & others) - Global Forecast to 2019. Emergence of SaaS-based solutions in the marketplace and growth of social media and social media advertising are amongst key factors driving growth of the digital marketing software market. The market growth is restrained a number of factors such as a lack of skilled personnel. Increasing popularity of video is currently one of key market trends. The research report offers and thorough insight into the global market for digital marketing software. The study offers a comprehensive overview of the market. It examines industry trends and covers market segments. The report highlights performance of regional markets and sheds light on the competitive environment. It also forecasts future development trends of the market.
Subsea Thermal Insulation Material Market by Type (Polyurethane, Polypropylene, Silicone Rubber, Epoxy, Aerogel, and Others), by Application (Pipe-in-Pipe, Pipe Cover, Equipment, Field Joints, and Others) - Regional Trends & Forecast to 2019. The subsea thermal insulation material market is currently dominated by Europe, while the USA holds a position of a leading country market. The global market is expected to grow at a CAGR of approximately 5 percent between 2014 and 2019. It is forecast to amount to USD 142.3 million by 2019. The market is forecast to grow at a highest rate in the Middle East, Africa and Latin America. The research report offers a thorough analysis of the global market for subsea thermal insulation materials. It explores market dynamics and industry trends, casts light on market segments and investigates the competitive landscape. Detailed company profiles as well as future market outlook can be found in the study too.
More in-demand research reports by the publisher can be found at MarketsandMarkets page.