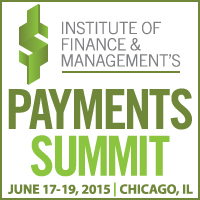 The findings of three new AR studies will be revealed at its 2015 Payments Summit.
Portland, ME (PRWEB) April 09, 2015
The Institute of Finance & Management (IOFM), the leading source of information, tools and resources for financial professionals, has announced that the findings of three new studies will be revealed at its 2015 Payments Summit, a learning event designed for mid- to senior-level managers and strategists involved with payment processing operations, treasury and cash management, and accounts receivable.
The results of the studies will be revealed and expanded upon in three separate sessions, all held on Thursday, June 18 at the Fairmont Chicago Millennium Park.
At 1:30 p.m., stakeholders from Pinnacle Financial Partners will share how that company overcame the challenges of a legacy lockbox system that worked, yet was hamstrung by reliability issues, extensive manual procedures, a limited web presence and other characteristics unconducive to long-term growth. Tina Anderson, Treasury Management Operations Manager at Pinnacle and Bo Minogue, EVP of Business Development at Mavro Imaging, will explain the situation Pinnacle faced, the steps they took, and the results they realized.
Also at 1:30, Mario G. Ducket, Vice President of Enterprise Content Solutions at BPO and outsourced service provider MetaSolutions, will share his company's experience navigating the challenges brought on by clients' increasing desire for remittance information, along with the innovative technologies and systems MetaSource used to meet those challenges. Bill Jones, Senior Sales Engineer at ibml, will also weigh in on the specific technologies, as well as the larger business trends at work.
Then at 4p.m., Joe Gregory, Vice President of Marketing at Orbograph, will present his company's exclusive research data on healthcare payments automation. Data points will include adoption rates of EDI claims, EOB paper processing rates, re-association trends and more, including the top challenges faced by hospitals as they move toward automation.
These programs will be complemented by additional presentations and addresses on topics like best practices for remittance and lockbox processing, ACH, remote payments capture, integrated receivables, mobile payments, outsourcing and more.
Confirmed speakers represent leading organizations including the Federal Reserve Bank, Fifth Third Bank, Consolidated Edison, Boys Town, NACHA, and Mercy Health Physicians.
In addition to the regular program, attendees will also have the option to register for Accounts Receivable Training & Certification programs to be held on Wednesday, June 16. The Accredited Receivables Manager (ARM) and Accredited Receivables Specialist (ARS) Certifications are open to all persons and departments working in the order-to-cash process. Registration is separate, but can be accessed via the Payments Summit website.
For complete registration details and to view the full agenda, visit http://www.iofm.com/payments-summit.
About the Institute of Finance and Management (IOFM):
The Institute of Finance & Management (IOFM) is the leading source and largest provider of tools, resources, research, training, certification programs, and events in the rapidly evolving field of financial operations. IOFM runs three membership networks: The Accounts Payable Network (TAPN), The Accounts Receivable Network (TARN), and The Controller's Network (TCN). Membership helps professionals advance their careers and organizations improve their processes through access to proprietary information, best practices, and expert insights. IOFM is a business unit within Diversified Communications, a global organization operating on four continents and a major independent producer of events and media worldwide.