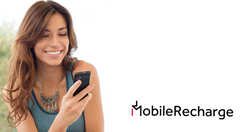 Mientras todo siga claro y sin trucos ustedes tienen un excelente servicio gracias lo unico que los precios varian cada ves que compro la carga minimima Un dia son $5.00 y otro $8 (Jesus Castillo on Trustpilot.com)
Atlanta, Georgia (PRWEB) April 16, 2015
Expats worldwide can give a great surprise to their relatives back home in El Salvador. The latest promotion on MobileRecharge.com brings them extra mobile credit plus other gifts. In other words, Movistar mobiles in El Salvador which receive top ups from abroad until April 19th, also get:
-200% Bonus credit
-a selfie stick
-access to Napster service for 2 weeks.
The Bonus package applies every time someone makes a purchase of minimum $10 on MobileRecharge.com. The promotion lasts until April 19th, 2015 or as long as supplies last, as stated in the Terms and Conditions.
The promotion is the best way to save money and time on gifts. At the same time it is a way to support one's family or friends in El Salvador. Here are some more reasons:
-Movistar mobiles in El Salvador can be refilled from any part of the world.
-Most importantly, it takes 1 minute or less to send mobile credit online from country to country.
-Anyone can pay with any major card or Paypal balance, no matter the currency of the account.
-It is a way to save money by sending extra credit without paying for it.
The 200% extra balance becomes active starting the date of the recharge and can be used by relatives and friends in El Salvador to call any number and/or text any number in the country.
To get the selfie stick, the recipient of the international top up (subscriber of Movistar El Salvador) should contact their operator, Movistar El Salvador, and ask details about the delivery.
To activate the Napster music service, recipients in El Salvador must send an SMS to 700 with the content VERANO. Napster offers unlimited access to over 30 million tracks. The service must be requested within 7 days from the date the Movistar mobile was refilled.
The strong points of this promotion are:
-Less than 1 minute to carry out the top up online on MobileRecharge.com.
-Anyone can send more than 1 top up until April 19 from the same account and benefit from the offer.
-Best deal on the market at this time.
-Highest mobile recharge value on the market.
Top ups on MobileRecharge.com are available all year long. For those who want to know what networks are available for their top ups from abroad, here is a list:
-Movistar
-Claro
-Tigo
-Digicel
The minimum $10 top up and the Bonus can be sent from MobileRecharge app that displays daily bonuses amounting to 800% extra credit for some countries. Banners have real time updates. Countries in South and Central America get 100% to 800% free extra credit during promotions. Most common bonuses are on refills to Mexico, Cuba, Colombia, Nicaragua, Dominican Republic, Guatemala, El Salvador, Ecuador, Honduras and Costa Rica. And almost every month, "Doble Bono" is the rhythm to send gifts to Cuba consisting of mobile credit.
Promotions run on MobileRecharge.com daily. They make available up to 500% Bonus on top ups to different mobile networks in El Salvador or other countries. Bonuses consist of different packages, including local and/or international calls, data and/or SMS, according to the Terms and Conditions of each promotion.
To stay updated to our special offers, one can:
-Subscribe to the Newsletter by pressing the button "Get offers" in the footer of the website
-Follow MobileRecharge.com on Twitter: https://twitter.com/MobileRecharges
-Become a Facebook fan: https://www.facebook.com/MobileRecharge.Fan?fref=ts&ref=br_tf
If you're wondering why expats use MobileRecharge.com, here are some advantages:

Free MobileRecharge app for iOS and Android
Direct access to phone contacts
Best value on the market for international top ups
Best deals in terms of amount - price ratio
Instant processing
All international credit/debit cards accepted regardless of card currency
PayPal accepted
Online access to orders and invoices
Daily Promotions
24/7 friendly Customer Support by chat & email in English and Spanish.
About MobileRecharge.com
MobileRecharge.com is one of the leading providers of international mobile top ups. The service is also known as airtime or mobile recharge. MobileRecharge.com addresses expats of all nationalities living in the USA, Canada, Asia, Europe and Australia, who are willing to refill mobiles in their native countries. Such refill is a way to send a gift or a way to support one's family.
MobileRecharge.com is an interactive website designed by KeepCalling, a global telecommunications company registered in 2002 in USA. From the get-go, MobileRecharge.com focused on creating an easy to use website and an easy to order service, succeeding to grow very fast. Presently, KeepCalling, the company behind MobileRecharge.com, provides its services to hundreds of thousands of consumers and businesses, with a focus on customer satisfaction. In 2014, Inc. 5000 listed KeepCalling as the 18th fastest growing company in the telecommunications industry in USA.
MobileRecharge.com goes on facilitating the connection between families and friends living far away, through modern telecommunication solutions.