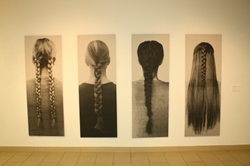 Washington, D.C. (PRWEB) April 09, 2015
Late spring exhibits at the American University Museum at the Katzen Arts Center include sculpture from the estate of area artist and poet Sy Gresser and a brief, not-to-be-missed showing of stone rubbings dating from the Han Period (206 B.C.-220 A.D.).
Cultural Treasures from Shandong province: Ancient Chinese Pictorial Stone Rubbings contains more than 60 kinds of rubbings of stone inscriptions taken during the Qin and Han Dynasties. The Chinese used a method of stone rubbing with paper and ink and made multiple copies of these inscriptions. The rubbings (also known as inked squeezes) preserved the inscriptions better than the stone itself. The rubbings were taken from stone inscriptions in the Shandong province of eastern China and reveal scenes of everyday life. An opening reception takes place 6 p.m. Tues. May 19. The exhibit opens May 19 and closes May 31.
AU Museum presents Sy Gresser's powerful and poetic legacy of stone carvings from April 25 through August 16 in Stone, Silence, and Speech: Sculptures by Sy Gresser. Gresser absorbed and re-articulated diverse visual vocabularies into his own, unique style. He balanced figurative and abstract technique to conceive sculptures that evoke memories of family and friends as well as literary and historic narrative. The blend of finished, smoothed surfaces and rough texture call upon the viewers' hands as well as eyes. A reception takes place from 6 to 9 p.m. on opening day, and Gresser's longtime curator Ori Z. Soltes will give a gallery talk 6 p.m. Thurs. May 7.
Lost and Found: Young Art from Lithuania, open from April 25 through May 24, is the product of an educational and artistic exchange between AU and the Vilnius Academy of Arts. Curatorial practice students from both universities are developing their skills in the management as well as the presentation of the art of their fellow students through this international exchange of exhibitions. Young Lithuanian artists exhibiting are working in a wide range of media varying from traditional craftsmanship to unique technological solutions. They demonstrate the varied influence of the Vilnius Academy of Arts on the creativity of its students. In return, Director Jack Rasmussen's Curatorial Practice Students will curate a show of AU students and recent alumni that will be exhibited at the Vilnius Academy of Arts in October 2015.
BLUEPRINT, opening April 25 and closing May 10, features the thesis exhibition of students who will graduate this spring with Master's of Fine Arts degrees. The students are Nathan Mullins, Ayad Almissouri, Angelina Samudre, Jenny Wu, Mandy Cooper, Michael Holt, Robert Yi, and Tim Hoyt. The exhibition showcases a range of techniques, including painting, sculpture, collage and material studies, photography and new media. A gallery talk will be held from 5 to 6 p.m., Sat. April 25.
MUSEUM INFORMATION, HOURS, LOCATION:
The American University Museum is a three-story public museum and sculpture garden located within the university's Katzen Arts Center. The region's largest university facility for exhibiting art, the museum has a permanent collection that highlights the donors' holdings and AU's Watkins Collection and Rothfeld Collection. Rotating exhibitions emphasize regional, national, and international contemporary art.
The Katzen Museum Store is open during museum hours plus one hour before select special events. Visitors may purchase books, catalogs, and prints related to past and current exhibitions, as well as fine crafts and other one-of-a-kind objects by predominantly local artisans.
The Katzen Arts Center, named for Washington-area benefactors Dr. and Mrs. Cyrus Katzen, brings all the visual and performing arts programs at AU into one space. Designed to foster interdisciplinary collaboration in the arts, the Katzen includes the museum, the Abramson Family Recital Hall, the Studio Theatre, a dance studio, an electronics studio, artists' studios, rehearsal space, and classrooms.
The American University Museum at the Katzen Arts Center is open from 11 a.m. to 4 p.m. Tuesday through Sunday. Admission is free. For more information, call 202-885-1300 or look on the Web at http://www.american.edu/cas/museum. Follow the museum on Facebook (facebook.com/AmericanUniversityMuseum), on Twitter (@AUMuseum_Katzen), or on Instagram (AUMuseum_katzen).