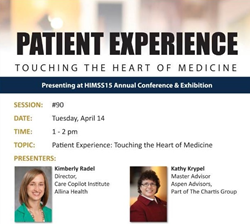 Attendees will learn practical ways to incorporate high-touch strategies alongside high-tech solutions to enhance the patient experience and better engage patients to improve outcomes - Kimberly Radel, Allina Health
CHICAGO, IL (PRWEB) April 09, 2015
Kimberly Radel, Director of the Care Copilot Institute at Allina Health, and Kathy Krypel, a Master Advisor with Aspen Advisors, part of The Chartis Group, bring the patient experience and patient engagement to center stage with their presentation "Patient Experience: Touching the Heart of Medicine" at the 2015 Annual HIMSS Conference & Exhibition in Chicago on April 14 from 1:00-2:00 pm. The session will highlight three innovative patient engagement initiatives implemented by Allina Health, giving participants actionable strategies from both a clinical and technological perspective.
"Attendees will learn practical ways to incorporate high-touch strategies alongside high-tech solutions to enhance the patient experience and better engage patients to improve outcomes," said Kimberly Radel. In their presentation, Radel and Krypel will share a successful framework for patient engagement as well as strategies ranging from a focus on the relationship to patient incentives and technological engagement. They will also discuss clinical and technological considerations for the patient experience when using an integrated electronic health record.
"In the pursuit of what is best for patients, there is a lot of talk about technology as the solution to save lives, time and money," said Kathy Krypel. "An electronic portal, for instance, is often thought of as 'the' patient engagement solution when it is only one tool and a means to an end. We must not lose sight of what it really means to enlist the patient as an active participant in his or her own care." Kimberly Radel adds, "The patient engagement initiatives at Allina are truly exciting approaches. We are successfully enlisting patients as active participants in their own care. By sharing examples of our work at Allina, we hope to highlight what is possible and offer pragmatic take-a-ways for the audience to use in their own organizations as they continue to develop patient engagement strategies and materially improve the delivery of healthcare."
"HIMSS is recognized for its quality and relevant programming. At HIMSS15, speakers share their expertise during our pre-conference and conference educational sessions," said JoAnn W. Klinedinst, CPHIMS, PMP, FHIMSS, vice president, professional development, for HIMSS. "I congratulate our HIMSS15 Annual Conference Education Committee that selected our final speakers as well as all presenters who will be part of our extensive and diverse programming schedule."
About Allina Health
Allina Health is dedicated to the prevention and treatment of illness and enhancing the greater health of individuals, families and communities throughout Minnesota and western Wisconsin. A not-for-profit health care system, Allina Health cares for patients from beginning to end-of-life through its 90 clinics, 13 hospitals, 16 retail pharmacies, specialty care centers and specialty medical services that provide home care, senior transitions, hospice care, home oxygen and medical equipment, and emergency medical transportation services. For more information about Allina Health, visit our website at http://www.allinahealth.org and join us on Facebook and Twitter.
About Aspen Advisors
Aspen Advisors, part of The Chartis Group, is a top-ranked IT advisory services firm that that works with leading healthcare organizations across the country to enhance care delivery, improve community health status, and achieve market distinction through the strategic and effective use of technology. In 2014, Aspen joined The Chartis Group to bring clients leading-edge thought leadership and capabilities in strategic planning, accountable care solutions, clinical transformation and information technology. The firm has earned accolades for its culture, service delivery and growth. Aspen Advisors was named among the top 20 in Modern Healthcare's "Best Places to Work in Healthcare" in 2011, 2012, 2013 and 2014 and earned several honors from Consulting Magazine, including being named one of its "Best Firms to Work For" in 2012 and 2014 and one of the "2014 Seven Small Jewels." Aspen has consistently ranked highly in KLAS' "Best in KLAS Awards." In 2012, 2013 and 2014, Aspen was among the top three firms in KLAS' "Overall IT Services Firms Ranking." Learn more at http://www.aspenadvisors.net.
About The Chartis Group
The Chartis Group is a national advisory services firm dedicated to the healthcare industry. Chartis provides strategic planning, accountable care, clinical transformation and information technology management consulting services to the country's leading healthcare providers. Chartis has been privileged to work with over two-thirds of the academic medical centers on the U.S. News and World Report "Honor Roll of Best Hospitals," seven of the 10 largest healthcare systems, four of the five largest not-for-profit health systems, nine of the top 10 children's hospitals and many of the nation's emerging accountable care organizations. The firm is comprised of uniquely experienced senior healthcare professionals and consultants who apply a distinctive knowledge of healthcare economics, markets, clinical models and technology to help clients achieve unequaled results. The Chartis Group has offices in Boston, Chicago, New York and San Francisco. For more information, visit http://www.chartis.com.
About HIMSS
HIMSS is a global, cause-based, not-for-profit organization focused on better health through information technology (IT). HIMSS leads efforts to optimize health engagements and care outcomes using information technology. HIMSS is a cause-based, global enterprise producing health IT thought leadership, education, events, market research and media services around the world. Founded in 1961, HIMSS encompasses more than 52,000 individuals, of which more than two-thirds work in healthcare provider, governmental and not-for-profit organizations across the globe, plus over 600 corporations and 250 not-for-profit partner organizations, that share this cause. HIMSS, headquartered in Chicago, serves the global health IT community with additional offices in the United States, Europe, and Asia.
###
Contact:
Shawna Schueller,
Marketing Director Aspen Advisors, Part of The Chartis Group
612.850.0825
sschueller(at)aspenadvisors(dot)net
http://www.aspenadvisors.net