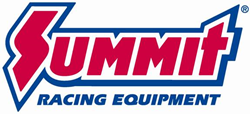 Tallmadge, OH (PRWEB) April 16, 2015
Stage 8's X-Lock Locking Spindle Nuts keep Dana 44 and Dana 60 front axle jam nuts in place, and ensure the axle bearings are under consistent load and torque, which greatly reduces bearing fatigue.
Stage 8 X-Lock Spindle Nuts were featured on Episode 4 of PowerNation TV's Xtreme Off-Road. Watch the full episode here.
Stage 8 X-Lock Locking Spindle Nuts are made from laser-cut 4130 steel and come with a specialized notch washer, locking retainer, and a heavy-duty snap ring to keep the nut secure. The spindle nut itself is adjustable, so off-roaders can dial in a specific preload. They can be locked within a half-degree of any position, to prevent over-tightening the nut.
Installation is easy and straightforward, with no special tools required. Stage 8 X-Lock Locking Spindle Nuts can be retrofitted on any vehicle with a Dana 44 or Dana 60 front axle.
Summit Racing Equipment
http://www.SummitRacing.com
1-800-230-3030