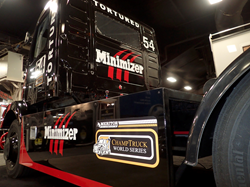 "It's a no-brainer for us to be involved in the return of big rig racing," Minimizer CEO Craig Kruckeberg said.
Blooming Prairie, Minn. (PRWEB) April 09, 2015
Minimizer's Tested & Tortured fenders already take a beating on the road.
Now, they'll feel the heat from the race track.
The iconic truck brand, known for putting new products through its Proving Grounds, will sponsor a pair of race teams during the inaugural Meritor ChampTruck World Series schedule.
"The heavy truck industry is our world, so it's a no-brainer for us to be involved in the return of big rig racing to North America," Minimizer CEO/Chief Visionary Craig Kruckeberg said.
ChampTruck World Series racing is putting 18 Class 8 trucks on 10 of the nation's most popular race venues, including Charlotte Motor Speedway, Texas Motor Speedway and Las Vegas Motor Speedway.
Team Tested - driven by Trevor Kruckeberg - and Team Tortured - driven by Brad Klemmensen - enter a new Proving Ground, joined by 16 other truck race teams competing for the 2015 title.
"Even though Brad and I have known each other a long time, we won't be friends once we step in those cabs," Trevor Kruckeberg said.
"People might think we'll take it easy on each other since we're both sponsored by Minimizer, but nothing could be farther from the truth," Klemmensen said. "Trevor and I are very competitive, and we'll do anything it takes to win."
Big rig racing disappeared from the U.S. in the late 1980s, but the ChampTruck World Series marks its return this month, when the action kicks off at the New Jersey Motorsports Park April 24th.
About Minimizer
Minimizer is your aftermarket solution for quality and dependable Truck Parts, including everything from Poly Truck Fenders, Toolboxes, Custom Floor Mats, Mud Flaps, Truck Maintenance Products and other Truck Accessories. Minimizer uses durable materials and robotic production technology to create an industry standard that allows us to offer the longest guarantee in the industry. Use Minimizer's innovative products to make your truck stand out from the rest.
Minimizer manufactures its products in the heart of the USA, and has been an American family owned and operated company for three generations. Minimizer takes pride in being known for the toughest products in the toughest industry.
Check out all their products at Minimizer.com or email info(at)minimizer(dot)com.
# # #