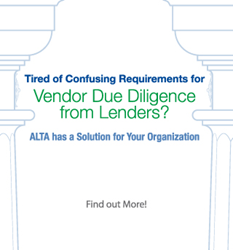 Lenders are becoming more focused on the risk they assume by conducting business with various title companies. This focus has the potential for increasing lenders' scrutiny of title companies
Knoxville, TN (PRWEB) April 10, 2015
In a new white paper, PYA details the rise of the ALTA Best Practices Framework and how it has changed the regulatory landscape for title insurance companies. The paper also designates key reasons why PYA is a leading provider for ALTA Best Practices pre-assessment, assessment, and certification.
In "Tired of Confusing Requirements for Vendor Due Diligence from Lenders? ALTA Has a Solution for Your Organization," PYA delves into the benefits of ALTA Best Practices Certification from the title industry's perspective. The paper provides an outline of the seven ALTA Best Practices "pillars" and offers an overview of ALTA Best Practices assessment procedures. It further breaks down how title company vendors can seek ALTA Best Practices Certification—including key steps for title companies—and demonstrates why certification is important to a title company.
As stated in the paper, "Lenders are becoming more focused on the risk they assume by conducting business with various title companies. This focus has the potential for increasing lenders' scrutiny of title companies, especially by those lenders who allow the closing professional to prepare loan disclosures. By obtaining a Best Practices Certification, a title company may recognize multiple benefits."
PYA, a certified public accounting and consulting firm, has been accepted into ALTA's Elite Provider Program and is recognized as the first Elite Provider to offer ALTA Best Practices Certification. ALTA's Elite Provider Program provides settlement companies with a source for identifying reputable providers that deliver high-quality services.
---
About PYA
PYA is a certified public accounting and consulting firm that assists title and settlement companies with the development and evaluation of policies and procedures consistent with ALTA's Best Practices Framework and independent assessments of operational processes, supported by written policies and procedures, for the purpose of certification. For over three decades, PYA has provided exceptional professional services and delivered comprehensive compliance, assurance, tax, and advisory services to clients. For more information, visit http://pyabestpractices.com.