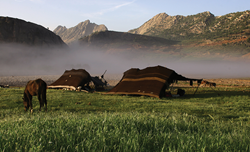 The program includes visits with minority groups, high quality local food, natural as well as cultural attractions, ancient and modern sites."
Ann Arbor, MI (PRWEB) April 09, 2015
Journeys International, an Ann Arbor-based adventure tour operator, is proud to announce that it was once again selected by National Geographic Traveler as offering a "Tour of a Lifetime" with its Persia Past & Present trip. The tour will be highlighted in the May 2015 issue of the magazine.
According to National Geographic Traveler, "The trips and operators we selected are a model for the rest of the travel industry: They open the world to travelers and at the same time leave a positive impact on the destinations and its people."
The first trip, scheduled for September 24, filled up so quickly that Journeys added two more departures: October 23, 2015 and April 6, 2016, as well as a second Iran itinerary, Odyssey through Antiquity, departing October 9. The trips can also be customized and private on flexible dates.
"The exceptionally experienced guides are the greatest attraction on this trip," said Robin Weber Pollak, President of Journeys International. "The program includes visits with minority groups, high quality local food, natural as well as cultural attractions, ancient and modern sites, and opportunities for physical activity such as optional morning yoga classes. In addition, the itinerary is designed around surface-only transportation, avoiding internal flights and allowing observation of daily life outside of major cities."
National Geographic Traveler magazine surfaces the best tours and outfitters for travelers as part of the magazine's mission "to propel readers out of their armchairs and into the field." National Geographic Traveler has the largest audience of any travel magazine, with more than 8.5 million readers.
This is the sixth time Journeys International has received this award. Previous winning trips include:

Ladakh Hemis Festival (2008)
Nepal: Everest Namche Lodge Trek (2009)
Indonesia: Apes, Arts & Dragons (2011)
Burma: Trek to the Last Village (2012)
Mindfully Engaging Guatemala (2014)
In total, Journeys operates over 200 trips in over 60 countries.
About Persia Past & Present
Ancient Persia has been the seat of many civilizations, delivering major contributions in poetry, art, architecture, science and history. On this trip, travelers will visit many of the country's archaeological gems that have been well preserved and portray Iran's rich historical heritage. The tour not only explores ancient ruins and colorful cities but also exotic bazaars, old baths, mountain landscapes and nomadic camps. Travelers will marvel at ancient monuments and beautifully tiled mosques. They will stroll through medieval bazaars that remain much as they were centuries ago. They will visit local nomadic tribes when driving across the vast country. Their journey will take them to Mahan (often associated with Sufism), to Yazd (the center of Zoroastrian culture) and to Shiraz (city of poets with major Jewish and Christian communities).
More information: https://www.journeysinternational.com/destinations/middle-east/iran/persia-past-present
About Journeys International
Based in Ann Arbor, MI, Journeys International has been creating guided, custom and family adventures for international travelers since 1978. Family-owned and operated, Journeys International's private and small group trips emphasize cultural and environmental awareness, and family trips are designed with all ages in mind. Because of long-standing, unique and personal relationships with guides around the world, Journeys trips offer a superior experience that travelers won't find with any other travel company.
More information: http://www.journeysinternational.com