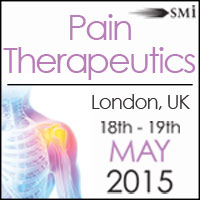 London (PRWEB UK) 13 April 2015
Set to take place on 18th & 19th May in London, Pain Therapeutics 2015 will gather a global audience of leading scientists and specialists in the healthcare industry to explore the current opportunities in the effective and safe management for pain. Through a series of interactive presentations and panel discussions, the conference will provide address spotlight principles and illustrative examples on current activities and trends in clinical/pre-clinical evidence-based and best-practice-based pain medicine, highlighting research in the field of pain relief and the latest developments in targeting nerve growth factors.
Attendees can expect to hear keynote address from Grunenthal's Associate Scientific Director, Dr Gregor Bahrenberg, discussing Vesicular Glutamate Transporters (VGLUTs) as targets for neuropathic pain. In a recent interview when asked what the biggest challenges within the pain industry? He commented:
"The way I see it, one of the biggest challenges is to predict the translatability of potential new analgesics on the path from animal models to the clinics. Besides, positioning is always a priority question, which means identifying the right pain indication for the molecule in hand. This has to be aligned with the need for new entities in such indications bringing about highest medical burden - because the patient´s needs remain of course in the centre of all our efforts."
Grunenthal also commented on this year's programme saying "The strengths of this year´s Pain Therapeutics Conference is to give overviews of the complete pain research and development cascade, from drug discovery to in vivo pain test models, from translational studies to early and late clinical development."
The event will feature two round table discussions on: Animal Models and pain – What is new? Led by University of Manchester & Neuroscience Technologies. The second discussion will be on: Pain and Biomarker led by Arachos Pharma.
Expert speaker panel for 2015 includes: Dr Mark T. Brown, MD, Executive Director, Clinical Program Leader for Osteoarthritis and Cancer Pain Studies, Pfizer; Professor Anthony Jones, Professor of Neuro-Rheumatology, Human Pain Research Group, University of Manchester; Dr Ian Bell, Principal Scientist, Discovery Chemistry, Merck; Anthony Ford, Chief Scientific Officer, Afferent Pharmaceuticals; Alexander Oksche, Exec Director European Pharmacol Intelligence, Mundipharma and many more.
A brochure with a full list of speakers and presentations is available to download online. For further information or to book a place, visit Marriott Regents Park Hotel, London, UK
http://www.pain-therapeutics.co.uk/prweb
Delegate enquiries: Contact Magdalena Georgieva on +44 (0)20 7827 6148 or email mgeorgieva@smi-online.co.uk
15th annual conference on...
Pain Therapeutics
18th & 19th May 2015
Holiday Inn Bloomsbury, London, UK
http://www.pain-therapeutics.co.uk/prweb
--------------- END ---------------
About SMi Group:
Established since 1993, the SMi Group is a global event-production company that specializes in Business-to-Business Conferences, Workshops, Masterclasses and online Communities. We create and deliver events in the Defence, Security, Energy, Utilities, Finance and Pharmaceutical industries. We pride ourselves on having access to the world's most forward thinking opinion leaders and visionaries, allowing us to bring our communities together to Learn, Engage, Share and Network. More information can be found at http://www.smi-online.co.uk