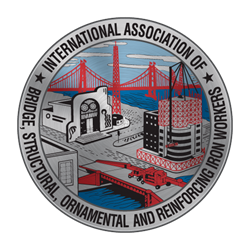 It's because of excellent training programs like this one that we are able to attract, train and deliver the best ironworkers in the world.
Mobile, Ala. (PRWEB) April 13, 2015
Iron Workers Local 798 in Mobile, Alabama, has a lot to celebrate. Their training facility was endorsed by the Central Gulf Industrial Alliance (CGIA) for excellence in training, staffing, safety, employer engagement and facilities.
CGIA, a consortium of industrial businesses and contractors covering Gulf Coast counties in Mississippi, Alabama and Northwest Florida, worked to identify and promote construction industry development programs as part of their initiative to improve industry performance in the areas of workforce development, safety and productivity.
"Safety is our number one priority," says William Graves, Business Manager for Iron Workers Local 798. "We emphasize safety every step of the way in our training programs. A safety-conscious ironworker is the best ironworker on the jobsite."
CGIA staff and subject matter experts from CGIA member companies conducted rigorous, onsite reviews of multiple training facilities in Mississippi, Alabama and Northwest Florida and found the Iron Workers Local 798 training facility to be among the best. Iron Workers Local 798 received a silver endorsement, scoring between 54 and 57 points across various evaluation criteria. Criteria included appropriate staffing levels; proper learning environments; up-to-date training course materials and content; a safe, clean and organized training facility; employer engagement with training facility graduates; and an overall evaluation of the program. The highest score possible was 60 points. Recipients of CGIA endorsements receive CGIA support to further enhance their training programs and the programs' graduates receive hiring preferences from CGIA member employers.
Other CGIA endorsements went to community colleges and an International Brotherhood of Electrical Workers local in Mississippi.
"We are very proud to have this training program recognized," says Walter Wise, Iron Workers General President. "It's because of excellent training programs like this one that we are able to attract, train and deliver the best ironworkers in the world."