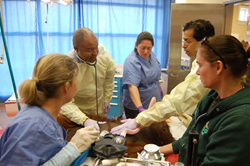 Studying orangutan heart health is exciting scientifically, but it has also been great humanistically
NORFOLK, VA (PRWEB) April 09, 2015
Orangutans Pepper and Schnitz enjoy grazing on grass and fruit and hanging around their habitat at the Virginia Zoo in Norfolk. They were born in captivity as part of the national great ape breeding program designed to collectively manage the captive gene pool and to prevent extinction of the species, which is threatened by habitat destruction in the wild. Despite their healthy diet and lifestyle, the Virginia Zoo veterinary team partnered with a team of two cardiologists and one staff member from Sentara Heart Hospital to perform ultrasounds of their hearts as part of the animals' annual wellness checkups at the Zoo's state-of-the-art veterinary hospital.
"Heart disease is a health issue for great apes in captivity," said Amanda Guthrie, DVM, staff veterinarian for the Virginia Zoo. "Pepper and Schnitz are middle-aged making this the right time to include heart scans in their annual checkup to be certain they're healthy, and we appreciate Sentara lending us their cardiac expertise."
Heart disease is one of the most common causes of morbidity and mortality in all four great ape species: gorillas, orangutans, chimpanzees and bonobos. It is especially prevalent in middle aged and older animals and is often seen more in males than females. Pepper, the female, and Schnitz, the male are a bonded pair and have been at the Zoo since 2011. One of the deadliest forms of disease is the aortic aneurysm, which can burst and kill an ape as quickly as a human being.
Dr. Mohit Bhasin is a cardiologist at Sentara Heart Hospital in Norfolk, Va., trained in diagnosing heart disease through high-definition 3-D CT images. He volunteered to interpret the ultrasounds for the ape hearts because his expertise readily applies. The heart disease seen in apes is similar to humans but also very different.
"It was a unique challenge and opportunity to help Dr. Guthrie and the Virginia Zoo maintain the health of these two beautiful animals," said Dr. Bhasin. "In studying the images, I was struck by the fact that the images of an ape heart and a human heart are indistinguishable." Bhasin adds he was intrigued at the opportunity to add to the developing science around heart health in great apes.
"By partnering with Sentara doctors we can further our learnings on orangutan heart health and learn something about heart disease from each other," said Dr. Guthrie. Early detection is imperative for treating heart disease in apes; and ultrasounds have been a vital diagnostic tool.
All of the cardiac exam forms have been submitted to The Great Ape Heart Project, the world's first multi-institutional effort to understand, diagnose, and treat cardiac disease across all four great ape taxa. This organization addresses a critical need within the zoo community to investigate and understand cardiovascular disease. The Great Ape Heart Project maintains a centralized database that analyzes cardiac data, generates reports and coordinates cardiac-related research.
At 125 and 270 pounds, Pepper and Schnitz are a handful, were anesthetized during the heart scans and wellness checks performed by Dr. Guthrie, which included checking their teeth. The back-to-back procedures took about five hours to complete. During the procedures, the apes were lying on a hospital bed donated by Sentara Norfolk General Hospital last year. Both came through with a clean bill of health and are again roaming in their exhibit habitat and engaging Zoo visitors.
"We share 97% of our DNA with the great apes," said Dr. Guthrie. "Preventive healthcare is just as important for Pepper and Schnitz as it is for humans. I'm so glad Sentara joined with us to confirm that they have healthy hearts."