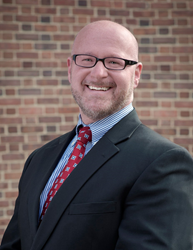 We believe Mr. Buettner has the skills, enthusiasm, and touch to build Baltimore Lab School into an educational cornerstone for years to come.
Baltimore, MD (PRWEB) April 14, 2015
Baltimore Lab School, which educates students with learning differences in grades 1-12, today announced that Steve Buettner has accepted the position as new Head of School, effective July 1, 2015. Mr. Buettner (pronounced Bitt-ner) was recommended by the school's search committee and unanimously accepted by the Board of Directors. He joins the school at an exciting time in its history, just one year after Baltimore Lab School began operating independently from The Lab School of Washington.
"As a longtime Baltimore-area educator, I've always heard of the amazing work Baltimore Lab School does," said Mr. Buettner. "But it's really not until you have a chance to visit and meet the students and dedicated staff that you really begin to understand what a special place it is. Baltimore Lab School truly transforms the lives of its students. It builds pride and expands the student's sense of what he or she can achieve. My vision is to grow Baltimore Lab into a regional resource for experiential learning."
Located in historic Old Goucher Hall at 2220 Saint Paul Street, Baltimore Lab School's urban campus enables students to enjoy rich artistic, educational, and cultural community resources.
"Mr. Buettner's commitment to the transformative nature of collaborative education reflects our core values," said Marc Wyatt, president of the board of Baltimore Lab School. "He understands the unique and wonderful contributions that each child brings to the classroom and will create an environment where they can exceed expectations. We believe Mr. Buettner has the skills, enthusiasm, and touch to build Baltimore Lab School into an educational cornerstone for years to come."
Mr. Buettner joins Baltimore Lab School from Lutherville Laboratory, a magnet school for science, mathematics and communications, where he serves as principal. While at Lutherville Lab, he collaborated with the Maryland Council for Inclusive Education to test assistive technology tools for students in special education programs. Under his leadership, Lutherville Lab received the National Magnet School Award of Distinction in 2007 and Award of Excellence in 2014, as well as the ARC of Baltimore – School Special Education Inclusion Award in 2011.
Prior to this position, Mr. Buettner served as an education program reading specialist at the Maryland State Department of Education; an adjunct faculty member at both the College of Notre Dame and Towson University, developing and implementing course of instruction for social studies and reading for the elementary and middle school programs; and a teacher and assistant principal at Hammond Elementary/Middle School in Howard County, Maryland.
Mr. Buettner graduated from Towson University, where he earned both a B.S. in Elementary and Secondary Education and a master's in Curriculum Development and Administration with certification as principal and superintendent.
About Baltimore Lab School
Baltimore Lab is a co-ed school with 119 children in grades 1-12. Founded by visionary educator Sally L. Smith in 2000, the school educates bright and motivated students with learning differences, including dyslexia, ADHD and related language-based learning difficulties. Through an innovative arts-based curriculum and with a student:teacher ratio of 6:1, Baltimore Lab transforms the lives of boys and girls as it prepares them for a rewarding range of college and career choices.