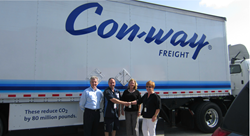 We look forward to continuing our support of [Kids Wish Network].
TAMPA, FL (PRWEB) April 09, 2015
Con-way Freight recently teamed up with Kids Wish Network to provide an in-kind delivery of 15 pallets of stuffed animals and other new gifts for kids facing adversity. The donation was provided with the hope of furthering the non-profit's mission to bring comfort and joy to kids who need it most.
The pallets of toys, generously donated by Kids Preferred, equated to approximately 5,290 lbs with a retail value of over $100,000.
"Kids Wish Network is overwhelmed by the support from Con-way Freight," says Kids Wish Network Executive Director Anna Lanzatella. "Understanding Con-way's dedication to corporate social responsibility and its employees, we are thrilled to partner with Con-way for other Kids Wish Network programs. We're delighted that Con-way Freight will be supporting the Louisville On Tour Event and are excited to invite Conway's Tampa Bay employees to assist with our local Gift Bank program over the 2015 holiday season."
The toys provided through this donation will be used by the Kids Wish Network for its On Tour Event and Holiday of Hope Gift Bank programs. Through these programs, the non-profit is able to reach hundreds of thousands of children across the country each year who face upsetting and often traumatic circumstances such as illness, abuse, neglect and homelessness.
"As a trucking company, we have a unique way to provide support to community organizations like Kids Wish Network who need shipping partners," said Joseph, the driver from Con-way Freight who delivered the toys. "Community giving is a big part of our operations and I'm humbled to be a part of this specific gift."
Con-way Freight will be playing a large role at the On Tour Event in Louisville on April 19th as the freight sponsor for the entire shipment of new gifts being transported to the area. In connection with the Mayor's office, the Kids Wish Network On Tour Event will bring smiles to the faces of over 3,000 of the area's youth.
Kids Wish Network would like to thank Con-way Freight for its dedication to the local community and welcome it to the Guardian Angel family. From the very first contact, Con-way Freight went above and beyond to coordinate the delivery from New Jersey to Florida and then right to Kids Wish Network's door.
"Giving back to the communities where we live and work is a core part of Con-way Freight's culture," said Mike McDonough, Tampa service center manager for Con-way Freight. "Our employees have a real passion for supporting local organizations like Kids Wish Network and it means a lot that we can deliver happiness and comfort to kids in need, and we look forward to continuing our support of this organization."
Con-way Freight is the industry's leading less-than-truckload (LTL) freight transportation company, providing guaranteed, day-definite regional and transcontinental service with exception-free delivery, on-time service performance and faster transit times through a single, unified network of more than 425 service locations serving the United States, Canada, Mexico and Puerto Rico. Learn more about how Con-way Freight can handle your shipping needs at http://www.con-way.com/en/freight.
Kids Wish Network is a nationwide charitable organization dedicated to infusing hope, creating happy memories, and improving the quality of life for children having experienced life-altering situations. Visit http://www.kidswishnetwork.org to learn more and find out how you can help makes dreams come true and sponsor a wish for a deserving child.