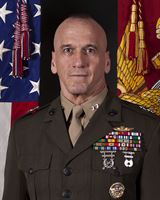 Jacksonville, North Carolina (PRWEB) April 11, 2015
The Marine Corps Association & Foundation will hold the 5th Annual MCA&F Camp Lejeune Dinner on April 22, 2015 at Camp Lejeune's Marston Pavilion.
The Dinner is being held in coordination with the Marine South Expo event taking place on 22 and 23 April and provides the annual opportunity to focus on the operational challenges facing East Coast Marines from the perspective of a key Marine leader.
A no-host reception starting at 5:30 p.m. starts the event with dinner following at 6:45 p.m. Attire for the Dinner is business casual (Open Collar).
Attendance is $19.00 for MCA&F members and $40.00 for non-members. Active duty Marines may attend at no charge, but must RSVP by April 17.
Reservations can be made online at http://www.mca-marines.org/events or by calling 703-640-0174.
The Marine Corps Association & Foundation is the preeminent association and foundation for all Marines and friends of the Corps dedicated to the development and recognition of professional excellence and expanding the awareness of the rich traditions, history, and esprit of the United States Marine Corps. The MCA&F advances leadership and recognizes excellence by hosting award ceremonies, facilitating Commanders' Forums, delivering Commanders' Unit Libraries, publishing and distributing the Marine Corps Gazette and Leatherneck, and by providing quality uniforms and accessories at the best value. The MCA&F understands and respects the achievements and sacrifices made by Marines and their families while serving this great nation. For more information, visit http://www.mca-marines.org