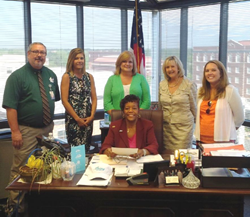 Albany, Ga. (PRWEB) April 10, 2015
Mayor Dorothy Hubbard proclaims April to be Autism Awareness month, Thursday morning in a ceremony in her office. The proclamation stated that Autism is the fastest growing developmental disability in the United States, impacting more than 13 thousand people in Georgia ages 3-21. The incidence of autism is an urgent public health crisis that demand support from all levels of government.
Easter Seals Southern Georgia, which serves over 700 people with Autism, says that every day, the millions of Americans living with autism and their families face unique and daunting challenges. Autism Spectrum Disorder (ASD) is a developmental disability characterized, in varying degrees, by persistent difficulties in social communication and restrictive and repetitive behaviors, interests, or activities.
Autism Awareness Month is a time to promote autism awareness, inclusion and self-determination for all, and assure that each person with ASD is provided the opportunity to achieve the highest possible quality of life.
Easter Seals Southern Georgia creates solutions that change the lives of children, adults and families with disabilities or special needs by offering a variety of programs and services that enable individuals to lead lives of equality, dignity and independence.
For more information, call (229) 439-7061 or visit us at: http://www.easterseals.com/southerngeorgia/