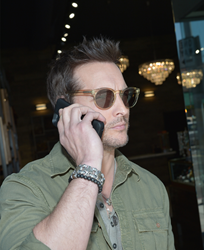 The range and variation of materials sets William Henry apart from other brands
(PRWEB) April 22, 2015
NEW YORK – William Henry, a brand know for exclusive and award-winning pocket knives, has launched its first men's jewelry collection of pendants and bracelets that have become the hallmark accessory for Hollywood's most assuredly masculine men.
William Henry's explicitly masculine design and artisanal approach have forged its status as celebrities' best-kept secret with a cult following among the biggest names in music and film. Peter Facinelli, of the Twilight Saga and NBC's new 'American Odyssey', is among the brand's most devoted fans and was recently named a brand ambassador. Other celebrity fans include Chris Pine, Nick Jonas, Harrison Ford, Laurence Fishburne, Brad Pitt and Angelina Jolie, Jared Leto, Pierce Brosnan, Zac Brown and many others.
"When I wear a William Henry piece, I can really appreciate the artistic process that goes into every item," says Peter Facinelli. "I can't tell you how often I am stopped and asked about what I'm wearing."
William Henry's new jewelry collection showcases the brand's signature workmanship with rare and storied materials. Its exceptional craftsmanship features sterling silver as well as exotic and unique forged metals derived from the ancient arts of sword-making. Recurring motifs of the collection include daedal arrows, artistic skulls and intricate crosses inlaid with rare and unique materials, including 100 million year-old petrified dinosaur bone (Apatosaurus), fossil Woolly Mammoth tooth, hand-forged damascus steel. Sculpted sterling silver, hand-burnished gold inlays, and fine hand engraving add to the timeless individuality of each piece.
"William Henry creations strike a personal chord with our clients. Every now and then, it is important to invest in objects that are personal, yet timeless in their appeal and relevance – these rare pieces are imbued with the personality of their owners, and become part of their living legacy," says Matt Conable, Founder & Chief Designer of William Henry.
William Henry still retains the aura of a proud artisan workshop, where many pieces are designed and created exclusively in limited editions. Designed and hand-crafted in the United States, every piece of this collection makes a bold, yet extremely refined statement, and speaks to a strong and masculine personality. William Henry has a clear and indisputable masculine origin: its DNA is rooted in the sword, the most masculine of all instruments.
William Henry is an American luxury brand devoted to the vision of designing and creating superlative jewelry and luxury accessories for men, crafting collections that integrate form and function into exquisite and unique pieces that belong to a category of all their own. Designer and entrepreneur Matt Conable founded the company in 1997 and is now the sole owner. The brand was established creating exclusive and award-winning pocket knives, effectively transforming the archetype of all tools into a superb piece of functional jewelry for men. Today's collections also include writing instruments, money clips, cuff links, key chains, golf tools, and William Henry has proudly grown to become one of the most admired and sought after brands in the world of luxury for men.