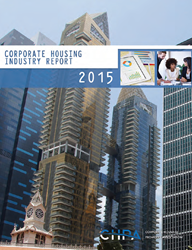 US corporate housing revenues were $2.73 billion in 2014, a 4% increase over 2013.
INDIANAPOLIS, IN (PRWEB) April 12, 2015
The Corporate Housing Providers Association (CHPA) released the annual 2015 Corporate Housing Industry Report, highlighting the industry's key performance indicators for North America. Overall, the corporate housing industry continues to gain in room revenues even though some metropolitan statistical areas (MSAs) reported declines. An increase in supply and demand allowed some MSAs more opportunities to provide housing for clients. The report includes an overview of the North American market, along with market-specific information in fifty-three US and six Canadian markets.
According to several key performance indicators, the corporate housing industry continues to grow. Highlights include:

US corporate housing revenues were $2.73 billion in 2014, a 4% increase over 2013.
Per survey respondents, US corporate housing inventory is estimated at over 61,000 rental units while Canada adds approximately another 7,300 rental units.
The average stay in the US increased significantly to 96 nights.
Occupancy in the US was up slightly to 88.6%.
Relocation continues to be the main reason for client stays in both the US and Canada, with project/training the second reason clients stay in units.
Overall, US corporate housing average daily rate (ADR) was $136.90 in 2014. ADR in Canada is estimated at $122.65.
"Corporate housing providers have greater flexibility to adjust inventory by removing or adding units in response to client demand," says CHPA Chairman Samantha Elliott, CCHP, CRP, of Preferred Corporate Housing. "This allows many companies the opportunity to maintain margins during the tight rental conditions of the last couple of years. While we are seeing increases in supply and demand for corporate housing units, several MSAs are still challenged by residential apartment demand exceeding the supply."
US corporate housing ADR was $136.90 in 2014. Individual MSAs reported a wide range of ADR growth and decline in 2014. Generally, ADR can fall or rise sharply when a new high- or low-priced provider enters the market or when unit mix shifts abruptly. Supply increased nationally by 3.1% and is projected to increase another 6% in 2015 which will continue to impact ADR in certain markets. This year's survey required corporate housing providers to estimate room revenues excluding optional, service-based fees for a clearer average daily rate (ADR) than in previous years.
"This critical report for corporate housing providers and related industries is a concise reference document for boards, investors, banking officials, and others as a third-party validation of the industry." says CHPA CEO, Mary Ann Passi, CAE. "Regional comparisons help companies determine trends in their key markets and rank their operations. Information on the most comparable lodging sector set, extended stay hotels, provides additional insight to this competing segment."
For the fourth successive year, relocation was the largest reason for using corporate housing in the US. Project and training was the second most cited reason for using corporate housing. Combined project and training and relocation account for more than half of total demand. This has been consistent for several years.
The complete report is available free of charge to members of the media. CHPA representatives are available for comments regarding the data and its application to the corporate housing industry. Please contact Amanda Cook, acook(at)chpaonline(dot)org or (317) 328-4631 for more information on interviews and article opportunities.
ABOUT CHPA
CHPA is the only trade association dedicated exclusively to the corporate housing industry. The association expects members to uphold the highest standards in business and professionalism; provides valuable insight, knowledge and resources to the industry; and increases visibility among related industries. Along with networking, education, certification, and information sharing, CHPA members grow their business and expand their reach through an international network of partners.