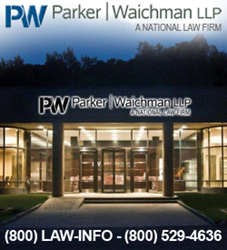 We find the results of the study to be troubling, since the findings suggest that the risk of death in dementia patients taking antipsychotic drugs is even higher than previously believed
Port Washington, New York (PRWEB) April 10, 2015
Parker Waichman LLP, a national law firm dedicated to protecting the rights of victims injured by defective drugs and medical devices, is commenting on a new study involving the use of antipsychotic medications in patients with dementia. The study, which was published online March 18, 2015 in JAMA Psychiatry, found that these drugs increase the risk of death in dementia patients, including those diagnosed with Alzheimer's Disease, and is greater than indicated by previous reports.
"The research findings reiterate agency concerns regarding increased cardiovascular risks in patients diagnosed with dementia who are also prescribed, and taking, antipsychotic medications," said Gary Falkowitz, Managing Attorney at Parker Waichman LLP.
Antipsychotic medications are sometimes used to treat aggressive behavior in patients who are diagnosed with dementia. While the U.S. Food and Drug Administration (FDA) has long warned that antipsychotic medications may increase the risk of cardiovascular events and death in patients with dementia, according to this study, this risk is higher than anticipated. In fact, researchers from the University of Michigan Medical School and VA Center for Clinical Management Research gathered data on nearly 91,000 patients diagnosed with dementia over the age of 65 between October 1, 1998 and September 30, 2009. The researchers concluded that the effect of antipsychotics on death in elderly patients diagnosed with dementia may be higher than previously reported and also may increase with dose.
"We find the results of the study to be troubling, since the findings suggest that the risk of death in dementia patients taking antipsychotic drugs is even higher than previously believed," said Mr. Falkowitz. "As a firm that has represented thousands of clients in lawsuits over defective drugs, we want to ensure that the public is aware of these risks."
Parker Waichman has assigned a paralegal to work on cases involving adverse reactions associated with the use of antipsychotic medications in patients who are diagnosed with dementia, including Alzheimer's disease. The firm is investigation whether or not manufacturers of these antipsychotic medications may have done something wrong with prescribing and labeling information, especially regarding certain populations and is also currently determining if the manufacturers may have been aware of these risks prior. The firm seeks to find recourse with these drug makers should it discover any issues regarding product labeling and potential adverse reactions.
Parker Waichman LLP offers free lawsuit consultations to victims of drug injuries and side effects. For more information concerning drug reactions, please visit the firm's Defective Drug page. Free case evaluations are also available by calling 1-800-LAW-INFO.