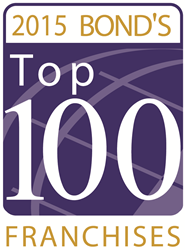 The true award is in helping others reach these goals every day and seeing lives improved through franchising.
WACO, Texas (PRWEB) April 10, 2015
Rainbow International was selected as one of Bond's Top 100 Franchises by The World Franchising Network.
The results are published in the 2015 Bond's Top 100 Franchises (6th Edition), which is now available in bookstores or online. The publication includes a three page write up for each company that contains a detailed background material on each franchisor selected. "Selection as a Top 100 Franchise is a great honor to those companies selected and should be a significant assist to prospective franchisees as they start their search process," said Robert Bond, president of World Franchising Network.
The World Franchising Network develops the list based on a rigorous analysis of several factors such as historical performance, brand identification, franchisee satisfaction, training, ongoing support and financial stability. "We are extremely pleased with the industry-leading franchisors that we have chosen for the 2015 edition of Bond's Top 100 Franchises," Bond said.
Rainbow International added 45 new units in 2014 and currently has 321 franchisees worldwide. "Our goal at Rainbow International is to offer people the opportunity to improve their lives by reaching personal and professional goals through business ownership," said Mark Welstead, president of Rainbow International. "The true award is in helping others reach these goals every day and seeing lives improved through franchising."
Rainbow International was one of eight Dwyer Group brands to make the listing. "It is an honor to have all of our brands recognized as Top Franchises," said Mike Bidwell, CEO of The Dwyer Group. "Each award we receive is further affirmation of the value we bring to our franchisees."