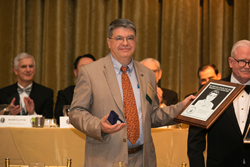 Training engineers is limited in scope. Engineers need to understand issues like peace/conflict, climate change, poverty reduction, water, energy, shelter, communication and more.
Chicago, Illinois (PRWEB) April 14, 2015
Dr. Bernard Amadei, a University of Colorado-Boulder civil engineering professor, was the featured speaker at a banquet room full of engineers, scientists, and interested parties on Feb. 27, 2015 at the Drake Hotel in Chicago.
The 60-year-old professor was being honored as the 2015 recipient of the prestigious Washington Award presented by the Western Society of Engineers.
The Washington Award has been bestowed to outstanding leaders in engineering for the past 92 years. American science educator Bill Nye, more commonly known as the Science Guy to television audiences, won the honor in 2014. Former Undersecretary for Energy at the U.S. Department of Energy Kristina M. Johnson was honored in 2013.
Amadei admitted modestly – later – that he was humbled to be joining such an outstanding field of honorees.
As he strode to the podium, Amadei glanced off to the side and smiled at his wife and son. It was comforting to know that his family could be with him at a special time such as this.
And, yet, his family wasn't physically there. They were back in their Lafayette (CO) home.
But, how could this be?
The excited faces of Amadei's family were visible upon a "Double," a robotic machine that has a screen attached to the top of the 4-foot tall drivable apparatus. The screen allowed his family to see and hear him speak while Amadei could see their faces and hear them at the same time.
"It's like an iPad on a broomstick connected to a Segway engine," Amadei says with a laugh, recalling that night. "Now my wife can be anywhere I am … as long as there's Internet (service). Otherwise, she won't be able to find me."
The "Double" was supplied by Maria Vedral, president of SilverEdge Systems Software, Inc., who also sells Double Robots.
Amadei marveled for a moment at the possibilities of Doubles.
"You could use them for so much, even in medicine," he said. "An assisting physician could use a Double but not actually be in surgery himself.
"Students could use Doubles to go to class … and, (laughing) you could use a Double for teachers, too." Then Amadei switched gears and got serious. As enthralled with the Double as he was, he had a message he needed to deliver, a message about how the world of engineering needs to change and is changing.
"Engineering over the past 100 years has contributed to making the world a better place," he said. "Life expectancy in the Western World used to be between 40 and 50 one hundred years ago. Now it's in between 77-83. People are living longer. Engineering has had a critical role to play in that, along with medicine."
But, that was then.
Amadei now questions if today's engineers and graduates have the skills and tools to address the more serious global problems that the planet is facing?
"Training engineers is limited in scope," he lamented recently in a follow-up telephone interview.
He cited the need for engineers to understand issues like peace/conflict, climate change, poverty reduction, water, energy, shelter, communication and more.
It's vital that they do, he said.
He pointed out to the audience in Chicago that 780 million people worldwide lack clean water; 2.5 billion people lack adequate sanitation; 1.2 billion lack adequate housing, 1.6 billion have no access to electricity; 1.3 billion are illiterate; and 1.8 billion live in conflict zones, in transition, or are in situations of permanent instability.
Amadei said that engineers today generally focus on technical issues when they really need to see the bigger picture.
"We need to change that mindset," he said. "Albert Einstein said 'The significant problems we face cannot be solved by the same level of thinking that created them.'"
The concept of helping to make the world a better place, a safer place, a more peaceful place through global engineering, didn't occur to Amadei until a series of events took place in the late 1990s.
"I needed to have some landscaping done at my home in Lafayette in 1997," Amadei said. "So, I looked in the Yellow Pages and called a company out of Longmont (CO). It was very random.
"A few days later, some people showed up and started working on the yard. I began talking to them. One of them (Angel Tzec) asked me what I did. I told him I was a professor of engineering at the university in Boulder.
"He said he was from Belize. He said he wished I could come down there. They wanted to develop a vocational school for the Mayan youth in Belize. He wanted to know if I could come down and help him on this matter." Amadei said Tzec, who also is a representative of the Belize Ministry of Agriculture, called again in 1999 and repeated his request for Amadei to come visit.
"In 2000, I went down to Belize and visited several Mayan villages," he said. "In the village of San Pablo, I saw that girls had to carry water from the river back to the village. That meant they had limited access to school because they were busy carrying water. In fact, they couldn't go to school." Amadei was further stunned to realize that the village not only had no running water, it also had no electricity or sanitation.
As a civil engineer, he knew he could help. He went back to Boulder, raised $14,000 and returned to Belize with eight CU-Boulder engineering students and a civil engineering expert from Boulder.
They installed a clean water system powered – not by electricity – but by a local waterfall, creating a sustainable, low-cost, clean water system. They system did not work for too long and was replaced by another system designed and funded by another engineer, Dennis Walsh.
"From a social, not a technical point, it allowed the girls to go to school. While the technology was one way to make an impact, it had a social impact, too," Amadei said.
The Belize project, Amadei now admits, was a life-changer for him.
Up to that point, "I always felt that these problems were better solved by charity," he said. "Now, I see it differently. Engineers can make a difference." Shortly after that, Amadei started Engineers Without Borders. Today the EWB program has more than 14,000 students, faculty and professionals and working on more than 400 projects in 45 countries.
The Belize project also had an unintended consequence.
"The students were super excited by this," Amadei said. That's when it dawned on him that not only had he been changed by this experience, his students had been, too.
And, they were ready for a change.
"Young people today, the Millennials, the ones who were born between 1980 and 2000, they want to change the world yesterday, not tomorrow," Amadei said. "They grew up with CNN and computers. They expect change."
Amadei says universities need to harness that energy and guide it toward the concept of global engineering.
He said developing a new generation of engineers for the 21st century – global engineers – will require students to learn more than just how to solve technical problems. They will need to be change-makers, peace-makers, social entrepreneurs, and facilitators of sustainable human development.
In his presentation in Chicago, Amadei quoted Dr. Paul Polak, of International Development Enterprises, about where emphasis should be placed on developing products and services now and in the future.
"The majority of the world's designers focus all their efforts on developing products and services exclusively for the richest 10 percent of the world's customers. Nothing less than a revolution in design is needed to reach the other 90 percent," Polak said.
Amadei pointed out that the 90 percent gap is dominated by problems that include water and sanitation, energy, shelter, health, education, and resiliency to crises.
He also noted that global engineers could not only help resolve many of these key issues but they could make money doing it.
He said there is a huge market for joint ventures between private and citizen sectors in the low-income world. Citing a 2010 study by Drayton and Budnich, Amadei said there is:
– A $202 billion market in health care.
– A $424 billion market in low-cost housing.
– A $553 billion market in energy.
– A $36 trillion market in agricultural products and food.
Amadei added that engineering for the "other" 90 percent will be about disrupting poverty; delivering solutions that are done right and rightly done; providing solutions with a human face; providing solutions that are appropriate; and providing solutions that emphasize affordability, accessibility, availability, sustainability, scalability, and reliability.
Amadei said now is the time to act.
"It's not normal for young people to go to bed hungry at night," he said. "It's time for us as engineers to not just be providers of solutions. We need to be peace-makers, change-makers. Engineering is about people, about youth, about the human heart and the human soul.
"We need a new mindset and we need a more passionate form of engineering."