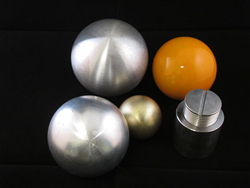 Dissolvable frac balls save operators time and money by reducing the need for coiled tubing drill out operations.
Euclid, Ohio (PRWEB) April 14, 2015
Terves Inc. announced that more than 500 of its second-generation TervAlloy™ engineered disintegrating frac balls have been successfully deployed in horizontal frac completions in North America since their introduction in late 2014. These new, lower-cost and higher strength metallic tools are easier to store and handle and less prone to early degradation than prior generation dissolvable metals, which have been used on more than 75,000 frac stages over the last three years.
The announcement coincides with a scheduled presentation by Andrew Sherman, Terves Inc.'s founder and Chief Technology Officer, at the inaugural ShaleTECH Canada conference in Calgary on April 22, 2015. The conference, sponsored by Gulf Publishing's World Oil magazine and DMG Events, will be a high-level forum for shale gas professionals to hear experts discuss the industry outlook and the latest technology advancements for shale gas development.
Advantages of High Strength Dissolvable Metals
In his presentation, "Emerging High Strength Dissolvable Materials," Mr. Sherman will review the technical principles of nanocomposite metals, which are lighter and stronger than aluminum, and which are engineered to disintegrate in a highly controllable manner when exposed to completion fluids at downhole temperatures. To date, the main oilfield application for high strength dissolvable materials has been for dissolvable frac balls used with sliding sleeve completions. More recently, dissolving balls have been deployed with bridge plugs for plug and perf completions. Full bore dissolvable tools are just emerging, enabled by the higher strength and lower cost of the next-generation materials. Terves has proprietary and patented nanocomposite technology and is a leading supplier of disintegrating magnesium frac balls and completion tool components.
Unlike balls made of less rigid dissolvable polymers and prior generation dissolvable metals, these engineered magnesium alloy frac balls maintain their shape and do not start degrading in the ball drop system, while effectively actuating sleeves or sealing frac pugs at pumping pressures that can exceed 10,000 psi. Once deployed, the engineered alloy tools respond to a combination of completion fluids and bottomhole temperatures of 85⁰ to 200⁰F to degrade into soluble micron-sized particles that easily circulate out of the well. Within 1-5 days after the frac completion, tools are completely disintegrated, leaving an unobstructed wellbore, without requiring coiled tubing drill out operations. "Disintegrating frac balls create significant savings for operators by preventing ball hang-up problems and reducing drill out and circulating costs," Mr. Sherman said.
Five formulations of TervAlloy "Engineered Response" Magnesium Alloys are available with useable tensile strengths up to 45,000 psi and with a range of dissolution rates engineered for different completion fluids and well temperatures. Two coating materials also are available to enable acid treatments with the disintegrating balls/stages in place, or to delay disintegration completely until a triggering solution is introduced into the well.
"With TervAlloy's advantages field -proven in frac ball applications, Terves continues to work with oilfield service companies and tooling OEM's to deploy dissolvable metals for construction of other completions components, including sliding sleeve ball seats, fully dissolvable frac plugs, disintegrating bridge plugs, slips and grips, pre-perforated liners, and short tubular sections," Mr. Sherman added. "The company's research and development efforts also include work on new materials and applications, including sand screens and fracture conductivity enhancement, freshwater dissolvables, dissolvables designed specifically for use with heavy brines in offshore wells, and even higher strength alloys to enable smaller seats and reduced component mass to further reduce costs," he said.
About Terves, Inc. http://www.tervesinc.com
Terves (pronounced Ter-VEZ) is a material science company that produces "engineered response" materials designed to sense and respond to local environments to perform additional functions. These materials are used in the oil and gas and defense industries, and include dissolvable materials, tracer release agents, high strength expandables, and materials that react to absorb or release chemicals or energy to control their environment. The company applies proprietary, licensed, and patented technologies developed over the last 25 years for aerospace and defense applications to produce highly differentiated metal, ceramic, and composite materials. These products are engineered to respond to their environment and predefined engineered stimuli -- including changes in fluid composition, temperature, pH, salinity, or electrical stimulation -- to induce material changes. Terves is located on a 54,000 sq ft campus in Euclid, Ohio that includes a nanomaterials research center, as well as casting, deformation processing, machining, pressing and sintering, and nanopowder production facilities. The company maintains a sales office in Houston, TX, and sales representatives in Calgary, AB.
Andrew Sherman is a Fellow of the American Society of Metals (FASM), and has spent 30 years developing nanocomposite materials and advanced processing technology for coatings, structures, and energy storage. He has led materials science development teams that have been recognized with three R&D100 awards and four Nortec innovation awards, as well as NACE, Wall Street Journal, Forbes, Frost and Sullivan, and American Metals Markets awards for innovation. He is a founding director of the Nanonetwork, and former director of the Edison Materials Technology Center (EMTEC).