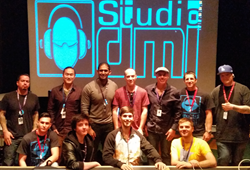 Your content was ridiculously good
Las Vegas, NV (PRWEB) April 14, 2015
European Music Market Inc. has been a consistent force in entertainment business branding since the late 90s. After nearly 20 years of operation, they have begun to share their wealth of experience in music production and engineering. Founder and CEO Ronnie Lee spent much of his professional career scouting the right talent to surround his business. One of his crowning partnerships was formed when respected producer and DJ, (turned elite mastering engineer), Luca Pretolesi joined the team. Along with a handful of other talented audio engineers, EUMM Inc. developed the foundation for what would become Studio DMI – a unique concept for advanced engineering and lifestyle.
In February of 2015, the very first Studio DMI educational workshop was taught to a small group of dedicated electronic music producers who signed up for the beta class. This "Pro-Mix" course was an intensive 3-day, 15-hour experience that invited students into the studio to observe and learn as Luca and fellow engineer Nik Hotchkiss detailed the Studio DMI mixing and mastering process from beginning to end.
Following the success of the first in-studio workshop, they decided to apply the same curriculum for an interactive online LiveStream course that was offered mid-March. This workshop proved to be an immediate success when it reached full attendance – with some of the students joining from as far away as Japan and Russia. Ronnie Lee points out the benefits of attending the interactive online courses: "I think it's an ideal way for producers or engineers to hear how a professional mix translates into the studio or environment that they work out of most often. Many of our students are already working in the industry but are not entirely confident in their sound or how their own room influences the mix. This is a great way to calibrate their ears and room to an industry leader's such as Luca."
Continuing the momentum gained from the first two workshops, Luca and Nik took the "Pro-Mix" workshop to California at the very beginning of April. Hosted at Los Angeles' esteemed audio production school Icon Collective, the 3-day workshop proved to be a terrific success. The event was co-sponsored by Pro Audio LA who outfitted the already lavish studio space with Focal SM9s (Studio DMI's monitors of choice) along with the exact Maselec MTC-1 stereo mastering console, Prism audio interface, and UAD Octo processing that is used at their main mixing/mastering facility in Las Vegas. This allowed the same familiar sound and workflow that Luca has come to rely on.
Vahid Atashzai, a talented producer and recent alumni of the interactive online "Advanced Mix & Master" workshop summarized his feelings after the course by saying, "Your content was ridiculously good. I've taken a lot of workshops… I just took one by Steve Duda and this one killed it."
Anyone interested in more information on EUMM or Studio DMI workshops should visit http://www.StudioDMI.com
Also be sure to join the community conversations on their social media sites such as Twitter, Facebook, and Instagram @StudioDMI