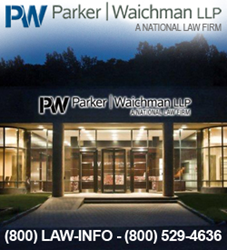 This amendment helps start the process of renewing the Zadroga Act, which is crucial for many 9/11 heroes said Matthew J. McCauley, Senior Litigation Counsel at Parker Waichman LLP
Port Washington, New York (PRWEB) April 10, 2015
Parker Waichman LLP, a national personal injury law firm that has spent many years fighting to ensure that the heroes of 9/11 are never forgotten, applauds United States Senators Kirsten Gillibrand (Democrat-New York) and Kelly Ayotte (Repbublican-New Hampshire) for their efforts to help extend the James Zadroga 9/11 Health and Compensation Act. According to an announcement posted on Senator Gillibrand's website on March 27, 2015, the two senators have proposed an amendment to the Senate budget resolution that would create a "deficit-neutral reserve fund," which "would allow Congress to consider future legislation that would continue to provide medical treatment and compensation for first responders, survivors, and their families of the September 11th terrorism attacks at the World Trade Center, the Pentagon, and the Shanksville crash site as long as that legislation does not increase the federal deficit."
"This amendment helps start the process of renewing the Zadroga Act, which is crucial for many 9/11 heroes," said Matthew J. McCauley, Senior Litigation Counsel at Parker Waichman LLP. "As a firm that has been involved in the passage of the Zadroga Act since the beginning, we applaud these efforts." Parker Waichman has engaged in lobbying efforts, and trips to Washington DC led by Mr. McCauley and, often, with the participation of the firm's clients.
The proposed amendment would help extend the Zadroga Act, which is due to expire in the 114th Congress, according to the Senators' announcement. The Zadroga Act was originally passed in 2010; the Act created the World Trade Center (WTC) Health Program and reopened the September 11th Victim Compensation Fund (VCF). The WTC Health Program provides medical treatment and monitoring to over 60,000 9/11 responders. The VCF provides compensation to responders and survivors who suffered economic losses due to 9/11-related injury, including toxic dust exposure, Parker Waichman indicated.
According to Parker Waichman, it is necessary to reauthorize the Zadroga Act so that critical medical treatment and monitoring to responders and survivors continues. The announcement also indicates that the WTC Health Program treats many chronic diseases and respiratory illnesses, including asthma, obstructive pulmonary disease, and gastroesophageal reflux disease. Cancer rates among responders has also been on the rise over the past decade; 3,600 responders and survivors have been diagnosed with a cancer linked to the attacks, the announcement indicates.
Parker Waichman LLP, which worked, and continues to fight, alongside Ground Zero first responders, survivors, and their advocates, to help ensure passage of the Zadroga Act and its amendments, vows to continue its efforts to safeguard these heroes and ensure that they receive all of the Zadroga Act compensation they deserve. If you or a loved one are eligible for compensation under the Zadroga Act, and would like assistance with your claim, please visit Parker Waichman's Zadroga Act claims page at yourlawyer.com, or call 1-800-LAW-INFO (1-800-529-4636).