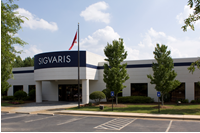 Those who attend the course will be able to immediately implement lymphedema and wound care practices, using the most advanced treatment approaches.
PEACHTREE CITY, GA (PRWEB) April 10, 2015
SIGVARIS and the International Lymphedema & Wound Care Training Institute (ILWTI) are pleased to announce that they are teaming up for the first time to offer the only certification program focused on wound care and lymphedema. The course is designed to educate medical professionals as they help treat patients with chronic wounds, lymphedema and edema.
"ILWTI is excited to partner with SIGVARIS to offer this course," says Robyn Bjork, co-founder and president of ILWTI. "This course will be focused on providing health care professionals who are tasked with providing care for the aging population with the knowledge they need on complex medical conditions that often results in patients having wounds, edema and lymphedema. Those who attend the course will be able to immediately implement lymphedema and wound care practices, using the most advanced treatment approaches."
In addition to sponsoring the course, SIGVARIS is also donating $100 to the Haiti lymphedema missions for every person who registers and completes the course, making this a unique opportunity to help patients both near and far, all at the same time.
The dual certification Lymphedema and Wound Therapist course is accredited by the Physical Therapy, Occupational Therapy and Nursing state boards for 135 hours/150 contact hours of continuing education. The course is delivered in a hybrid format including 62.5 hours of online pre-course work, followed by six days of intensive labs and workshops. Participants can choose from three groups of dates to complete the lab/workshop portion of the course which will be offered at SIGVARIS North America headquarters in Peachtree City, Ga. on May 29-June 3; July 30-Aug.1 & Aug. 6-8 (this is a split session to accommodate those who can't be away from the office for six consecutive days); and Oct. 22-27.
Those who register early will receive both an early bird rate and an additional $200 off with the coupon code: SIGVARISCLWT2015. Those who take the time to look up the course online will also receive an additional course called Differential Diagnosis and Treatment of Lower Extremity Edemas (a $169 value) for free using the code SIGVARISSUPPORTSYOU2015 during the online registration.
To learn more and register for the courses visit: http://www.ilwti.com. For additional educational opportunities regarding leg health and compression therapy visit http://www.sigvariseducation.com.
About SIGVARIS
SIGVARIS® North America is part of an internationally active medical device group headquartered in Winterthur, Switzerland that focuses on the development, production and distribution of medical compression garments, including hosiery and socks. With distribution in more than 60 countries on six continents, SIGVARIS is recognized as a global industry leader in the area of compression therapy for the management of chronic venous disorders. SIGVARIS product lines include: SIGVARIS MEDICAL, SIGVARIS WELL BEING and SIGVARIS SPORTS. Our U.S. manufacturing plant is located in Peachtree City, Ga. In 2014, SIGVARIS celebrated its 150th Anniversary. For more information, please visit http://www.sigvarisusa.com.
SIGVARIS is a registered trademark of SIGVARIS AG, CH-9014 St. Gallen/Switzerland and in many countries worldwide.