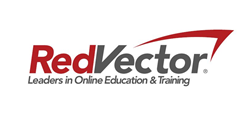 "We're proud to launch safety training that can help industrial organizations and their employees further their safety culture and help them comply with critical EPA and DOT requirements."
Tampa, FL (PRWEB) April 10, 2015
RedVector, the leading provider of online training to industrial businesses, including chemical processing, power generation, oil and gas, metals and minerals, pulp and paper, food and beverage and pharmaceutical manufacturing organizations, has launched the following 8 new mobile-ready safety training courses.

Resource Conservation Recovery Act (RCRA): Hazardous Waste Training Requirements
Corrosion Control: Transportation of Natural & Other Gases by Pipeline
Spill Prevention, Control & Countermeasure (SPCC) Plans
Emergency Plans & Response Training for Gas Pipelines
Oil Spill Responses in Facilities
R&D Chemical Hygiene
Benzene: Safe Handling & Storage
Vinyl Chloride: Safe Handling & Storage
Comprising 7.5 hours of training, these courses outline safety standards, including EPA and DOT requirements, propose solutions to both everyday safety challenges and emergency situations, and teach the safe handling, storage and transport of chemicals, oil and gas.
"We're proud to launch safety training that can help industrial organizations and their employees further their safety culture and help them comply with critical EPA and DOT requirements," said Dan McGonegle, RedVector Industrial Product Director. "We believe that investment in safety curriculum can greatly reduce injuries and illnesses and improve productivity and employee morale."
Through this new RedVector training, gas pipeline facility professionals can learn proper corrosion control and transportation of natural gas, while R&D laboratory workers can gain valuable information about proper chemical storage and handling. The new courses also outline hazardous waste regulations, generator rules and Resource Conservation Recovery Act training requirements, as well as tools that can be used to prevent, contain, control and, if necessary, clean up an oil spill.
About RedVector Industrial
Founded on the idea that better training leads to better performance, RedVector provides comprehensive online training to industrial and facilities professionals so that they may work safely, maintain certifications and achieve operational excellence. With an online library exceeding 950 courses, RedVector serves organizations across the globe. For more information, call 800.624.2272 or visit RedVector.com.