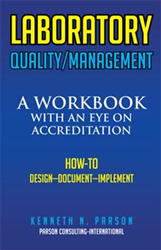 SEATTLE, Washington (PRWEB) April 13, 2015
A laboratory without accreditation is missing a fundamental piece of the puzzle. Kenneth Parson's new guidebook "Laboratory Quality/Management" leads laboratories toward this "seal of approval" that lends legitimacy to findings and research.
The process of preparing for accreditation, however, often mystifies researchers. As a former lead assessor for the National Voluntary Laboratory Accreditation Program (NVLAP), Parson knows all too well the challenge of communicating to laboratories what steps they can take to make sure they're ready and will pass with flying colors.
"I've worked in the field of metrology as a consultant and assessor for my entire life," Parson said. "I have worked in and managed laboratories for Navy missile and submarine calibration operations. I also created courses in lab accreditation for Central and South America, Egypt, Kazakhstan and Uzbekistan, and I lectured on International Standards and how important they are to the accreditation process in the United States and abroad."
It is accurate to say that there is no other book like "Laboratory Quality/Management" on the market. It directly outlines the procedures required for laboratories to substantially improve operations efficiency and seek international recognition through accreditation, straight from a foremost expert on the topic.
Laboratory Quality/Management
By Kenneth Parson
Available in softcover, hardcover, e-book
Available on Amazon, Barnes & Noble, Google Books and Xlibris
Library of Congress Control Number: 2012922052
About the author
Kenneth Parson has spent his entire life in the field of metrology for the design, start-up and operation of various calibration laboratories. He has lectured extensively on how to design, document and implement a well-established quality and management system for all types of laboratories. Parson is also an instrument rated commercial pilot and the owner of Parson Consulting International. He has an MBA from Pepperdine University.
# # #
For review copies or interview requests, contact:
Craig Cainkar
(317) 602-7137
ccainkar(at)bohlsengroup(dot)com