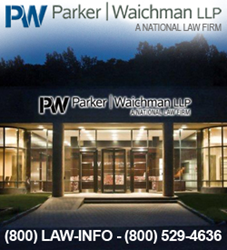 Port Washington, New York (PRWEB) April 15, 2015
Parker Waichman LLP, a national law firm that has spent many years fighting to ensure that the heroes of 9/11 are never forgotten, comments on recent news involving 9/11 rescue workers and survivors. According to an announcement by the fund's Special Master Sheila Birnbaum, the VCF has made compensation decisions totaling over $1 billion. The fund has approved 10,549 eligibility claims and determined 4,415 compensation decisions as of March 31, 2015. The announcement indicates that 92 percent of the total loss amount is for first responders and 27 percent of the compensation is for individuals diagnosed with cancer.
According to the announcement, there has been a significant increase in compensation determinations compared to the same time last year regarding the number of eligibility and compensation claims submitted with required documentation. The higher number of actionable claims is at least partly attributed to efforts educating claimants about the proper kinds of documents necessary to support a claim, the announcement indicates.
According to Parker Waichman, the VCF is vital for many 9/11 rescue workers and survivors who were injured in and as a result of the attacks. "We are pleased that 9/11 heroes and survivors will receive the compensation they deserve," said Matthew J. McCauley, Senior Litigation Counsel at the firm. "As a firm that has been fighting for the rights of 9/11 heroes since the very beginning, and we understand how critical this compensation is for individuals who have been unable to work and who have suffered life-changing reactions as a result of 9/11-related injuries."
Parker Waichman continues to fight alongside Ground Zero first responders, survivors, and their advocates to help ensure passage of the Zadroga Act and related amendments and vows to continue its efforts to safeguard these heroes and ensure that they receive all of the Zadroga Act compensation they deserve. If you or a loved one are eligible for compensation under the Zadroga Act, and would like assistance with your claim or filing, please visit Parker Waichman's Zadroga Act claims page at yourlawyer.com, or call 1-800-LAW-INFO (1-800-529-4636).