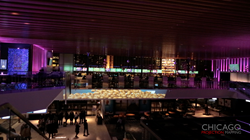 People are used to filtering everything out. The trick with projection mapping is that we can make some really great, surprising content and it's different enough from everything else out there that it really st
Chicago, IL (PRWEB) April 09, 2015
Chicago based 3d, 4d, and Interactive video projection mapping company Chicago Projection Mapping is pleased to announce a new advertising project at marquee convention center in Chicago. The client is getting in on something that advertising agencies and marketing firms across the country have been eyeing for some time: projection media ads. Using projection media for advertising got its start a few years back, and has recently often been used in malls and movie theaters because it's a great way to stand out from the noise created by the current advertising landscape.
Unlike a full branding campaign or more traditional mediums, 3d projection mapping advertising has the ability to stand out, in part because it's something that people aren't quite as used to seeing it deployed. Another part of the reason that projection ads work so well in public places is that they tend to be on the cutting edge, technologically speaking, and therefore, can find ever more effective ways to catch the consumer's eye. Projection advertising is designed to stand out in a crowded marketplace. The content of the projection media can help in this regard as well, delivering advertising messages to a consumer that is already interested by the medium.
"Great content will always catch someone's eye," Mark Smith, owner and founder of Chicago Projection Mapping said. "But the advertising environment is so noisy. People are used to filtering everything out. The trick with projection mapping is that we can make some really great, surprising content and it's different enough from everything else out there that it really stands out to the consumer." People who pass by almost don't notice the branding sometimes, Smith went on to say, at least on a conscious level. They're often just mesmerized by the artistry of the projection, making this technology an excellent vehicle for advertising messages.
This makes projection mapped advertising a great venue for ad agencies and marketing firms to advance their campaigns. After all, ad agencies—whether they're invested in nationwide commercial costs or emphasizing boutique marketing strategies—all aim to make contact with consumers on the ground. Projection ads allow that contact to be made in strategically important areas—at sites of consumption, for example. A 3d projection mapping style ad in a mall is great because it allows the ad agency to convey a message to an audience that is demonstrably interested in the product.
This advantage for ad agencies is not to be underestimated. The projection media content can, of course, be formatted to then direct the consumer to secondary media, such as a website or a storefront. The power of projection ads, or full 3d,4d, or fully interactive installations and the appeal projection mapping for ad agencies, is that this medium can get people's attention, especially when it's handled as professionally and as artistically as it is by the talent at Chicago Projection Mapping. The new project will be a chance to show off this potential and, once complete, will catch the attention of anyone who happens to walk by, whether they're interested in the brand organically or not. That's the power of projection mapping for advertising purposes. If you're interested in moving some of your own ads or branding into the projection mapping arena, contact Chicago Projection Mapping at Info(at)ChicagoProjectionMapping(dot)com.
Main Chicago Offices 630.620.0000
Email us at Info(at)ChicagoProjectionMapping(dot)com
CPM capabilities
3D and 4D Projection Mapping Design
Temporary and Permanent Installation
Consultation on All Aspects of Mapping Process
Show Design and Integration
Pre-Visualization, including storyboards and renderings
In-House 2D and 3D Animation Team
Custom Interactive Design Capabilities
Asset Reconguration for Brand Consistency
Integration with all major video and media formats
Custom Media Servers for awless operation
Experience with all standard mapping hardware and software
Partnerships with regional and national hardware vendors
On-Site Setup, Mapping, and Event Operation
Remote access and operation for permanent installations
For more information, please visit http://www.ChicagoProjectionMapping.com, or call 630-620-0000.
Read more: http://www.benzinga.com/pressreleases/15/03/p5361686/industry-leading-projection-mapping-company-contracts-to-produce-multip#ixzz3WqdGD8io
About Chicago Projection Mapping: Based in Chicago, IL, Chicago Projection Mapping is a full service content creation and 3D projection mapping company, serving the corporate, event, meeting, and convention sectors. For more information, please visit http://www.ChicagoProjectionMapping.com, or call 630-620-0000.