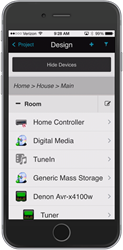 We designed this certification to help our dealers build a technician's basic competency with Control4 products. Technicians can put their new skills to use immediately with real customer installation work.
Salt Lake City, Utah (PRWEB) April 11, 2015
Control4 Corporation (NASDAQ: CTRL), a leading global provider of home automation and control solutions, today introduced a new Associate Installer online training program to certify entry-level technicians as a first step in their career development in automation installation, programming and design. Our network of independent authorized Control4 dealers now can leverage this free online Associate Installer Certification curriculum to train their employees on basic installation skills utilizing Control4® Composer Express, an easy-to-use mobile configuration and setup tool. Within hours, participants will learn how to install and configure one-room home entertainment systems, as well as assist in the provisioning of lighting devices in larger projects. The goal of the new program is to enable dealers of Control4 products to deploy staff to customers' homes quickly so they can respond to the growing consumer demand in their local markets.
"Control4 dealers have made it clear that they want us to make it easier for them to develop their employees' skills," commented Ted Haeger, Senior Director of Training and Support at Control4. "We designed this certification to help our dealers build a technician's basic competency with Control4 products. Technicians can put their new skills to use immediately with real customer installation work. Dealers can evaluate their employees' technical acumen in the field before opting to expand their training by sending them to Control4's four-day course on whole-home automation programming. Control4 is listening, and we're responding with tools and programs to increase our dealers' efficiency and profitability."
The new Associate Installer Certification comprises four classes:

Overview of Solutions
Infrastructure for Home Automation
Building Basic Entertainment Solutions
Controlling Wireless Lighting
The Associate Installer Certification works entirely within Control4's Composer Express app, and can be completed in as little as three hours. It's easy for our dealers to get their employees started on the Control4 certified programmer track by having them register for this new training program for free through Control4 University, and download the Control4 Composer Express mobile app today for free in Apple's App Store, or the Google Play Android Store.
About Control4
Control4 [NASDAQ: CTRL] is a leading provider of automation systems for homes and businesses, offering personalized control of lighting, music, video, temperature, security, communications and similar functionalities into a unified home automation solution that enhances the daily lives of its customers. Control4 unlocks the potential of connected devices, making entertainment systems easier to use, homes more comfortable and energy efficient, and families more secure. More than 75% of Control4's consumers have integrated two or more functionalities with Control4's solution, which is available through more than 3,250 custom integrators, retail outlets, and distributors in over 90 countries. By delivering insightfully simple control solutions that enhance the lives of individuals and families, Control4 is the automation platform of choice for consumers, major consumer electronics companies, hotels, and businesses around the world.
Forward Looking Statement
This press release contains "forward-looking statements" within the meaning of the "safe harbor" provisions of the Private Securities Litigation Reform Act of 1995, including but not limited to, statements regarding Control4's possible future products and financial outlook. All statements other than statements of historical fact contained in this press release are forward-looking statements. These forward-looking statements are made as of the date they were first issued, and were based on the then-current expectations, estimates, forecasts, and projections, as well as the beliefs and assumptions of management. Forward-looking statements are subject to a number of risks and uncertainties, many of which involve factors or circumstances that are beyond Control4's control. Control4's actual results could differ materially from those stated or implied in forward-looking statements due to a number of factors, including but not limited to, risks detailed in Control4's most recent Annual Report on Form 10-K and Quarterly Report on Form 10-Q filed with the Securities and Exchange Commission, as well as other documents that may be filed by the company from time to time with the Securities and Exchange Commission. Past performance is not necessarily indicative of future results. The forward-looking statements included in this press release represent Control4's views as of the date of this press release. The company anticipates that subsequent events and developments may cause its views to change. Control4 has no intention and undertakes no obligation to update or revise any forward-looking statements, whether as a result of new information, future events, or otherwise. These forward-looking statements should not be relied upon as representing Control4's views as of any date subsequent to the date of this press release.
Press Contact
Blair Sonnen
Control4
bsonnen(at)Control4(dot)com
801.619.4245
# # #
Copyright © 2015 Control4 Corporation. All rights reserved. Control4 and the Control4 logo are registered trademarks of Control4 Corporation in the United States and/or other countries. Other names or brands may be claimed as the property of others. All specifications subject to change without notice.