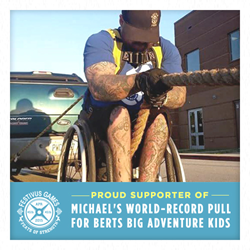 Woodstock, GA (PRWEB) April 14, 2015
At age 16, when Michael Mills was struck head-on by a drunk driver and lost the use of his legs, he didn't think much about breaking world records. But a lot can change in two decades: This athlete, husband and father will attempt to set a Guinness World Record by pulling a 4,000-plus-pound truck 100 meters, hand over hand, while in his wheelchair during intermission at the upcoming Festivus Games.
The biannual Festivus Games are known for celebrating and challenging "the rest of us," as in novice and intermediate athletes tackling feats of functional fitness. Hosted by Crossfit Etowah in Woodstock, Ga., the 3rd Festivus Games take place April 18, with about 8,000 athletes expected to compete worldwide this year.
Mills' world-record attempt has been sanctioned by the Guinness World Records, the universally recognized authority on record-breaking achievement. Ripley's Believe It Or Not! is also going to be on site to witness Mills' feat of inner and outer strength. Mills will be pulling a Honda Pilot, which weighs from 4,000 to 4,700 pounds.
"Being told that I'd never walk again was one of the hardest things to swallow, but anyone who knows me knows that I love a challenge. I decided to embrace this challenge and live life to its fullest rather than feeling sorry for myself," said Mills, who competes in the sport of obstacle course racing and is a Reebok Spartan Pro Adaptive Athlete. "I look forward to showing everyone at the Festivus Games how world records, and self-imposed limits, can be broken. Anything can be done with willpower and strength."
Now 38, Mills is a married father of three, full-time employee, aspiring Crossfit athlete and competitor in wheelchair racing and adventure sports.
A fundraiser to support the event is being hosted at Crowdrise. All of the proceeds raised for Mills' world-record pull will be donated to Bert's Big Adventure, which helps kids ages 5 to 12 who have been diagnosed with a chronic or terminal illness or who have physical challenges. Donors will be entered into a raffle for prizes, including clothing, photography sessions, supplements and protein bars, shoes and more.
"Michael truly embodies the spirit of the Festivus Games, as he shines for 'the rest of us,' and we are thrilled that he will show everyone what being an athlete really means," said David Greenwalt, co-Owner, Festivus Games. "Athletes come in all shapes and sizes and we are proud to have a platform to celebrate feats of strength that come from the inside out."
About the Festivus Games
Athletic games "for the rest of us," the first Festivus competition was held in 2011, giving novice and intermediate athletes the chance to enjoy competitions designed just for them. Growing from 70 athletes in its first year, the 3rd biannual event in 2015 is expected to feature more than 8,000 athletes in competitions hosted across the United States, Australia, the United Kingdom and Canada. For more information, please visit https://festivusgames.com/.