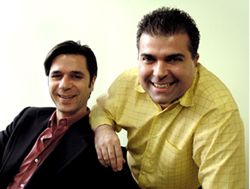 "We are pleased and excited to be able to conduct this four-day educational program to help other physical therapists with a comprehensive approach to diagnostics and treatment of the neuro-fascia." Dr. Kostopoulos & Konstantine Rizopoulos
Astoria, New York (PRWEB) April 11, 2015
As physical therapists from the New York area and around the world are adding more and more diagnostic tools to their practices they are able to get to the root of more and more of their patients' problems. However, in order to truly understand what they are seeing in the results of their diagnostics and to know how to resolve the issues thus revealed, these same physical therapists must have a strong, comprehensive understanding of the neuro tissue.
This is why the staff at Hands-On Seminars are so pleased to offer this intensive four day learning experience: NeuroFascia Revealed.
In this extensive course physical therapists will receive answers to questions such as:
How to properly diagnose a carpal tunnel syndrome
How to effectively treat carpal tunnel once it has been diagnosed
Why many times manual physical therapy is ineffective in cervical spine pathology and what to do about it
What it means when you have a negative MRI with a positive EMG for radiculopathy and how you can treat the condition
These situations and more will be addressed in this one-time learning experience created and taught by world-renowned authors, clinical experts, and Hands-On Seminars Co-Founders Dr. Dimitrios Kostopoulos and Dr. Konstantine Rizopoulos.
Dr. Dimitrios Kostopoulos is a world renowned, leading expert in Myofascial Pain and the co-founder of Hands-On Care Physical Therapy and Hands-On Seminars in New York. He has taught students in the US, Europe, Asia and Africa and has published numerous research articles.
Konstantine Rizopoulos is also known around the world as an expert in Myofascial Pain and the co-founder of Hands-On Care Physical Therapy and Hands-On Seminars in New York.
Mr. Rizopoulos has extensive experience in the area of manual therapy, particularly in MyoFascial and Trigger Point Therapies, neuromobilization, strain and counterstrain and muscle energy technique approaches. He is a Master Practitioner of Neurolonguistic Programming and specializes in consulting individuals and businesses to identify and unleash their true potential.
Konstantine Rizopoulos and Dimitrios Kostopoulos are the authors of the Book, the Video and the Posters in "Trigger Point & MyoFascial Therapy" and a Video Series in Manual Therapy.
Hands-On Therapy is proud to be able to offer this unique, intensive 4-day course and clinical workshop taught by these two authorities in the field. It is the ultimate educational experience for the clinician who wants to take their clinical practice to a totally new level.
"We are pleased and excited to be able to conduct this four-day educational program to help other physical therapists with a comprehensive approach to diagnostics and treatment of the neuro-fascia." Dr. Kostopoulos & Konstantine Rizopoulos
Location: Astoria, NY
Date: April 16-19, 2015.
Space is limited – Call now
Hands-On Seminars, Inc. (HOS) is the leading international continuing education organization in the world, awarded the Lecture & Seminars Award as the best Lecture and Seminar Company from the Lectures and Seminars Bureau over the past two years. Their purpose is to provide the best quality Manual Therapy seminars at an affordable cost. For further information, please contact: Vasilis at 888-767-5003 or info(at)handsonseminars(dot)com
###