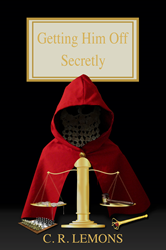 C. R. Lemons puts the ability to keep a secret to the test in 'Getting Him Off Secretly'
Fort Worth, TX (PRWEB) April 11, 2015
With a secret world of powerful men involving fantasy intertwined spectacularly with reality, talent and creativity shine while pushing the boundaries in C. R. Lemons' 'Getting Him Off Secretly'. This riveting murder mystery has is all... intrigue, passion, and suspense.
----------
Synopsis:
Secrets... Secrets... and more Secrets. Delve into this riveting murder mystery full of intrigue, passion, and suspense to find them all out.
Paralegal extraordinaire Daisy Sinclair goes undercover with the ever-so-sexy criminal investigator Warren Cole, her partner in crime investigation and in love. Their relationship couldn't seem more perfect until their firm is hired by the Honorable Elijah "Eli" Whitfield to solve the disappearance and subsequent murder of his acquaintance. He is not just any Judge, he is Daisy's former boss with chestnut brown hair, deep blue eyes, a smile that a politician would kill for and is by far the sexiest one presiding in Texas. There is a history between these two that lingers and comes to fruition when Daisy's undercover assignment takes her deep into a secret world of the most powerful men in Fort Worth and working intimately close with the Judge. Daisy finds herself at a crossroads between her committed relationship with her boyfriend and resisting a hot steamy affair with her former boss all while trying to catch a murderer.
Curiosity will be raised while the clues are being deciphered and will reach its climax when the person responsible for the murder is revealed.
----------
'Getting Him Off Secretly' is Book 2 of the Getting Him Off Series. The idea of the series came as a result of C. R. Lemons working as a paralegal for many years combined with being an "armchair" detective. She created a series based around murder investigation from a legal defense team's point of view. C. R. Lemons wanted a strong experienced female main character who is free spirited and lives her life by her own rules as a result she created paralegal extraordinaire Daisy Sinclair. Daisy isn't afraid to shun the norm to live her life and pursues everything she desires without restraint in both her personal and professional lives. The male characters are equally as strong and were created to give a good counter balance to the main character rather it be to challenge her, assist her, etc.
Also, C. R. Lemons enjoys reading crime fiction and erotic romance, so she wanted to write books with a perfect balance of both genres.
----------
To date, the novel has garnered immense interests and acclamations as well as landing on the Top 100 Paid Amazon Best Sellers List in the Erotic Mystery and Erotic Thriller genres.
----------
'Getting Him Off Secretly' is available now: http://amzn.to/1Io3cNy
----------
About the Author... C. R. Lemons:
After receiving a degree in paralegal studies, C. R. Lemons was a paralegal for many years until deciding on a career change of currently managing her award-winning, family-owned business.
As a child, she would sneak her mom's romance novels and lose herself in them. She always had an active imagination and dreamt of sharing it through writing. This dream finally came true with her first novel 'Getting Him Off Quickly' and continues with her second novel 'Getting Him Off Secretly'.
C. R. Lemons is a native Texan who enjoys her coffee strong, her music rockin' and her life full of laughter. She lives with her adorable husband, two beautiful daughters, three spoiled Chihuahuas, and one diva of a German Shepherd.
C. R. Lemons Website: http://www.crlemons.com/