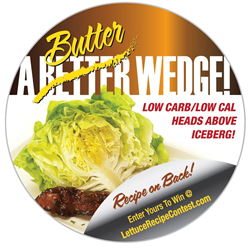 Carpinteria, California (PRWEB) April 10, 2015
Hollandia Produce, L.P., the nation's largest provider of hydroponically greenhouse grown living butter lettuce and other leafy greens, today announced the launch of its A Better Butter Lettuce! Recipe Contest, a national retail and consumer-based campaign aimed at helping consumers and retailers better understand the versatility of living butter lettuce as a staple recipe ingredient.
Whether learning of the contest through social media, advertising or in-store merchandising, consumers can access original butter lettuce recipes and submit their own online at http://www.lettucerecipecontest.com for a chance to win the $1,000 Williams-Sonoma gift card grand prize.
Contestants can compete in one of three categories: Salads/Sides, Appetizers, or Main Course. A First- Second- and Third- Place from each category will receive a $150, $75 and $50 gift card respectively.
To help promote the contest, Hollandia Produce has begun shipping its Live Gourmet® Living Butter Lettuce with a recipe label attached to each clamshell. Six original, chef-created butter lettuce recipes will rotate for the duration of the contest and will show how living butter lettuce can be served as a salad, wedge salad, Caesar salad, and wrap, and on a sandwich or in a smoothie.
A Better Butter Lettuce Recipe contest is open to all eligible participants and expires on July 31, 2015. For official contest rules, please visit http://www.lettucerecipecontest.com/.
About Hollandia Produce
Founded in 1970, Hollandia Produce, L.P. is family owned and operated agricultural business specializing in hydroponically greenhouse grown vegetables. Located in Carpinteria, California, the company grows, ships, and distributes its certified organic label Grower Pete's, and its Live Gourmet® line of products, which are harvested with their roots intact to preserve freshness. The company's signature crops, Living Butter Lettuce, Living 3-in-1 Lettuce and Living Red Butter Lettuce are all delivered to market in the company's award-winning clamshell packaging, which serves as a mini-greenhouse to reduce damage, shrinkage and contaminants. As living plants, these products have exceptional long-lasting freshness that retains flavor and color much longer than comparable varieties in the produce department. For more information, visit: http://www.hollandiaproduce.com.