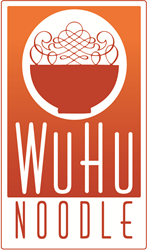 "We designed WuHu Noodle as the perfect complement to our already diverse dining options," said Craig Cavileer, president of Silverton Casino Hotel. "This restaurant will have authentic Asian cuisine, as well as traditional favorites for every palate."
Las Vegas, Nevada (PRWEB) April 10, 2015
Situated in southwest Las Vegas, Silverton Casino Hotel will add a new Asian inspired restaurant, WuHu Noodle coming this Summer 2015.
Designed by Dalton Steelman Arias & Associates, WuHu Noodle is 1,400 square feet and intimately seats 44 guests including the "patio" seating extending onto the casino floor. The décor will reflect a modern take on traditional Asian elements featuring pops of color mirroring the shades of orange taken from the details of the interior architecture. Two HD screens with scrolling menu items and tantalizing photos will line the entrance welcoming diners to explore the menu before being seated at communal tables with modern wood and metal accent chairs.
"We designed WuHu Noodle as the perfect complement to our already diverse dining options," said Craig Cavileer, president of Silverton Casino Hotel. "This restaurant will have authentic Asian cuisine, as well as traditional favorites for every palate."
WuHu Noodle will join the other fast and casual restaurants, Starbucks® and Johnny Rockets® and will be designed as a modern and quick-service restaurant with an interactive kitchen viewing area. The menu will feature items with authentic flavors from Chinese, Japanese, Vietnamese and Thai cuisine. Dishes will include handcrafted noodle bowls, wok-fired recipes, fresh ingredients and bold flavors throughout. WuHu Noodle will be available for lunch and dinner with expedited service ideal for diners' on-the-go.
The grand opening of WuHu Noodle is scheduled for June 2015.
Follow WuHu Noodle's progress towards opening and keep up to date with posts on social media platforms including pictures of menu items, event openings and featured specials. Follow WuHu Noodle and Silverton Casino on Twitter at http://www.twitter.com/silvertoncasino and on Facebook at http://www.facebook.com/SilvertonCasino.
About Silverton Casino Hotel
Silverton Casino Hotel offers 300 deluxe rooms and suites and world-class amenities all located within an upscale, contemporary luxury lodge-themed resort. Silverton Casino Hotel is home to a variety of restaurants and dining options, including the Seasons Buffet, the 24-hour Sundance Grill, Shady Grove Lounge, Twin Creeks Steakhouse, Mi Casa Grill Cantina, Starbucks and Johnny Rockets. In addition to the flagship 165,000-square-foot Bass Pro Shops Outdoor World, Silverton offers 90,000 square feet of gaming with more than 1,600 slot machines and 30 table games, and the Mermaid Restaurant & Lounge. The property features a 117,000-gallon saltwater aquarium with more than 4,000 sharks, stingrays and tropical fish, which was voted "Best Free Attraction" in the Best of Citysearch®. Silverton is located at I-15 and Blue Diamond in Las Vegas. For more information, please call 702-263-7777 or visit http://www.silvertoncasino.com.
###