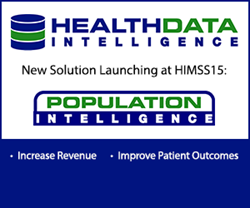 HDI exceeded our expectations in developing an industry leading platform
Columbus, Ohio (PRWEB) April 10, 2015
Health Data Intelligence (HDI), http://www.healthdataintel.com, is excited to announce the launch of Population Intelligence ™, a disruptive cloud-based software solution that equips organizations to improve the health of their populations – employees, patients, or both.
Population Intelligence, http://www.populationintelligence.com, harnesses the power of a multi-dimensional, risk-stratifying and predictive methodology to deliver the following specific benefits:

Increased revenue
Improved patient outcomes
Reduced disease burdens
Decreased overutilization of services
Mr. Dunn provided further comments: "HDI exceeded our expectations in developing an industry leading platform to help employers better understand where their claims dollars have been spent, but more importantly where their claims dollars will be spent going forward."
Population Intelligence employs cutting edge predictive models from the Johns Hopkins Adjusted Clinical Groups (ACG®) system to assess illness burden and predict care and cost utilization across entire patient populations.
"We very deliberately designed Population Intelligence to be ahead of the curve and forward-looking in every aspect of population health management," added Jude Odu, CEO of HDI. "We look forward to helping organizations across the country identify and reduce runaway costs associated with managing the health of their patient populations."
The Population Intelligence product suite will be officially launched on April 13, 2015 at the HIMSS Annual Conference in Chicago. At the product launch, HDI will provide demos of Population Intelligence for population health management, and CarePlan™, its enterprise-level analytics suite that provides performance metrics to identify and address the root causes of important problems that hospitals face today. HDI's HIMSS15 booth location is S-37.
About Health Data Intelligence:
HDI is leading innovation in healthcare analytics and evidence-based business decision support for hospitals and health systems.
HDI's mission is to help health systems and other organizations achieve improved quality of care for patients while eliminating waste and improving financial outcomes. HDI empowers healthcare professionals to make better-informed decisions that make a difference in people's lives.
The HDI team is a dynamic group of healthcare veterans with deep experience in both clinical and business settings. The team brings over 60 years of direct, hands-on experience in healthcare IT, data analytics, clinical decision support, and medical services. Throughout their careers HDI's founding members have had a determined focus on making healthcare data and medical products/services easier for busy health professionals to understand and use.