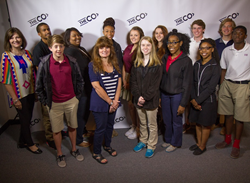 Jackson, Tennessee (PRWEB) April 09, 2015
theCO, a West Tennessee based community of entrepreneurs, creatives and developers, is pleased to announce that twelve area high school students have won a trip to San Francisco for earning the highest honors in the second annual "CO:de Catalyst" coding course and competition.
The seven girls and five boys in the winning group provide a welcome contrast to the much-discussed nationwide lack of diversity in STEM fields. "Our winners truly represent West Tennessee and its bright future," said theCO CEO Ben Ferguson.
The top performing West Tennessee student was ranked 5th all time out of almost 200,000 Treehouse students representing roughly 190 countries. "These students consistently prove they can compete and succeed on a global stage," continued
Ferguson.
The CO:de Catalyst program began in 2013 to spark interest in technology related fields among West Tennessee students. With support from the Jackson Chamber of Commerce, LaunchTN, Jackson Energy Authority, First Tennessee Bank, Personnel Placements and Murray Guard, the program provides students in both public and private high schools access to a high quality, industry relevant tech education. Students access content through Treehouse, a self paced web platform that teaches how to build a website, mobile apps, and web apps using current languages and platforms." Currently 15 schools in West Tennessee are scheduled to participate in the 20152016 program.
Madison County Mayor Jimmy Harris added, "For a regional economy built on agriculture and manufacturing, it is important to recognize that a changing economy will require new skills and bring new opportunities. The CO:de Catalyst program not only assures that these students will be ready to seize those opportunities, it also helps the community at large become familiar with and embrace the technologies of tomorrow."
"There is a convergence of opportunity in West Tennessee to fundamentally change our position in the global economy," said CO:de Catalyst supporter and Jackson Chamber CEO Kyle Spurgeon. "Governor Haslam has drastically reduced barriers to both higher and technical education while pushing for consistent alignment from Kindergarten to Job. Our fully installed fiber to the home network, reliable power sources, and abundant water supply combined with low cost of living and no state income tax provides significant opportunities for technology firms and startups."
Last year's CO:de Catalyst winners toured Google, LinkedIn, and Stanford University during their San Francisco trip (check out the video on theCO's website.)
About theCO
theCO is a community of entrepreneurs, tinkerers, engineers, creatives, students and developers encouraging economic growth, business development and coding education in West Tennessee. Founded by five local businessmen: Ben Ferguson, Ben Harris, William Donnell, Drew Ermenc and Barrett Gay, theCO is funded through a combination of private support and LaunchTN, a public initiative created by the State of Tennessee to encourage entrepreneurship and small business ownership. To learn more about theCO, visit http://www.attheco.com . theCO is also on Facebook
( http://www.facebook.com/attheco ), Twitter (@attheco) and Instagram (@attheco).