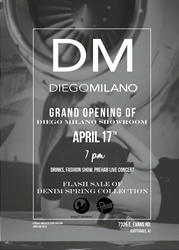 Scottsdale, AZ (PRWEB) April 10, 2015
Diego Milano opens the doors to their first showroom Friday, April 17th at 7pm. The luxury denim company is ready to reveal their denim-manufacturing warehouse, located in North Scottsdale and to kick off the night, they are having a denim flash sale, donating $50 of every pair sold that night to local charity, Angel Mamas.
Shopping Diego Milano is already a luxury experience, but shopping DM in its first showroom is a completely unique experience. Peering through floor length glass windows, you get to watch your jeans be created right before your eyes. And just in case you weren't already enjoying yourself, you can sit back and relax with a glass of champagne, watching the hand made process take place.
Come to Diego Milano's open house and showroom grand opening and be lavished with lots of wine, great food, and while watching models showcase the rock and roll inspired luxury denim. There will also be a VIP bus taking guests to Rock Bar for Prehab's CD release and after party.
For more details of the event and to RSVP:
http://www.eventbrite.com/e/diego-milano-denim-showroom-grand-opening-featuring-music-by-dj-mr-p-body-tickets-16361344221
If you would like to interview the founder and designer please contact laura@diegomilano.com for an interview time slot or for more information.