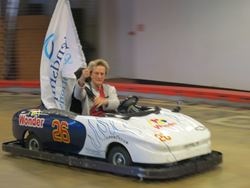 "Our team feels that participants can experience new, old, and exciting adventures at any age and not give up their passions and interests," said Jessica Enriquez
Schaumburg, IL (PRWEB) April 10, 2015
Friendship Village resident Anna Hauser never had a driver's license. This did not stop her from putting the pedal to the medal her first time behind a steering wheel last week. Completely obliterating the common (mis)perception of activities for aging adults, Friendship Village Schaumburg has introduced a special track of extreme programming for its residents. Its latest foray into less-than-traditional senior activities was the community's go-kart outing to Enchanted Castle in Lombard. Two-dozen residents of Friendship Village, as well as some associates of the retirement community gave all new meaning to the term 'fast and furious' as they hit the track in their electric go-karts.
"This event is part of our new lifestyles program here at Friendship Village. As a result of proper progression in our integrated program, participants are trained with functional movements and ADL (Activity of Daily Living) exercises to help them prepare for 'extreme' activities such as snow tubing, indoor skydiving, horseback riding, and rock climbing. Our team feels that participants can experience new, old, and exciting adventures at any age and not give up their passions and interests," said Jessica Enriquez, SeniorFit Program Exercise Physiologist at Friendship Village
The go-karting event included three elimination rounds and a final championship race. "Enchanted Castle totally catered to our needs and really helped to make this experience a great success," said Enriquez. The Friendship Village group had the track to themselves, but made so much noise cheering each other on, they ended up drawing a crowd from other Enchanted Castle attractions. "That's really what made the event more meaningful because here we are, a senior community, and adolescents and adults were in awe of what we were doing. Everyone had a smile on their face and said, 'wow, I want to be like them when I get older,'" Enriquez said.
Friendship Village is a leading Chicago-area retirement community offering a complete continuum of care including independent living garden homes and apartment homes, as well as assisted living, memory support, skilled care, and short- and long-term rehabilitation services. For more than 35 years, Friendship Village has been providing Chicago area seniors with exceptional retirement living options. For additional information visit http://www.FriendshipVillage.org.