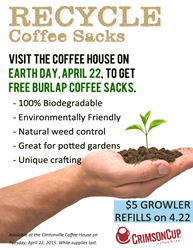 We want to do our part on Earth Day to encourage and reward recycling. Sustainable sourcing of our coffee and tea and giving back are two of our core values.
Columbus, Ohio (PRWEB) April 10, 2015
To encourage recycling on Earth Day, Crimson Cup Coffee House will give away burlap coffee sacks and offer $5 refills of cold-brew coffee growlers – a 50 percent discount over the regular $9.95 price. While supplies last, local residents are welcome to pick up coffee sacks between 6 a.m. and 9 p.m. on Wednesday, April 22 at 4541 N High St. in Clintonville. No purchase is necessary.
"We want to do our part on Earth Day to encourage and reward recycling," said Coffee House Manager Jamaal Bledsoe. "Sustainable sourcing of our coffee and tea and giving back are two of our core values."
A 32-ounce glass growler jug filled with Crimson Cup's cold-brewed Armando's Blend coffee sells for $11.95, including the jug. It normally costs $9.95 to trade an empty growler for a full one, but on Earth Day the prices is only $5. Coffee can be stored in the refrigerator to create the perfect iced coffee at home.
"Buying a refillable cold-brew growler allows you to enjoy delicious coffee right out of your refrigerator while conserving packaging and saving money compared to buying iced coffee by the cup," Bledsoe said.
Each burlap coffee sack is approximately 28 inches wide by 36 inches tall and may retain the scent of the green coffee beans it once held. Burlap is a coarse woven fabric made primarily of natural fibers.
"Burlap coffee bags have literally thousands of uses," he said. "In the garden, use them as a biodegradable weed barrier, a container for growing herbs or potatoes or a covering to protect tender young plants from the cold."
He added that burlap is an increasingly popular craft fabric. "Some coffee bags carry bright printed logos that look great as pillows, wall hangings, curtains and even clothing. Stop in early for the best selection."
Biodegradable Single Serve Coffee Capsules are always available at the coffee house. Also known as pods or K-cups, these recyclable capsules are designed to work with major single-serve home-brewing systems and come packaged in a biodegradable bag. A package of 10 capsules sells for $9.95.
About Crimson Cup Coffee & Tea
Since 1991, Crimson Cup Coffee & Tea has hand-roasted specialty coffee in Columbus, Ohio and taught independent business owners how to be successful through its coffee shop franchise alternative program. Sustainably sourced Crimson Cup coffee is available through a network of more than 350 independent coffee houses, grocers, college and universities, restaurants and food service operations across 29 states, as well as the company's own Crimson Cup Coffee House in the Columbus suburb of Clintonville. For more information, visit crimsoncup.com.
About Crimson Cup Coffee House
Founded in 2007, Clintonville's Crimson Cup Coffee House serves specialty-grade coffee, espresso and loose-tea along with breakfast sandwiches and locally sourced muffins and breakfast pastries. Highly trained baristas prepare espresso-based drinks as well as single-origin coffees at the Crimson Cup Brew Bar. The Coffee House also serves as a testing and training laboratory for Crimson Cup Coffee & Tea, which has been locally roasting coffee in small batches since 1991. For more information, visit crimsoncupcoffeehouse.com.