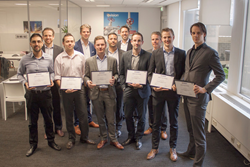 We form a powerful alliance and I look forward to the future.
(PRWEB) April 11, 2015
Six months into the partnership with Accenture, eVision announces the first Global Alliance Program certification. The partnership was initiated to create more value and differentiation for current and future clients. It was the start of an exciting venture for both companies, allowing new and exciting growth possibilities.
"The Accenture Team was rapidly adopted as one of our own, and the short time in which they achieved the certification is brilliant," says Simon Kennedy, Chief Operating Officer at eVision, "We hope that we can certify many more Accenture Team members in the future."
Accenture's Dennis Kersten, Senior Manager, attended the ceremony. He says that "[Accenture's] collaboration with eVision allows us to touch new grounds, specifically in the Control of Work market. With such clients as BP and Shell, eVision is the global leader in their field. We form a powerful alliance and I look forward to the future."
The first Global Alliance Program certificates have been given to the team that works on Permit Vision 6, a product used by all of eVision's biggest clients. Seven candidates have been named Configuration Associate, while one candidate has received the Quality Assurance Associate title. As the companies intensify their global cooperation, it is likely that many more important milestones will come after.
"We started this company to make the world a safer place," says Michael Abspoel, Engineering Manager at eVision and manager of the Accenture team, "No matter how brilliant our strategy, if we keep playing a solo-game, we will eventually lose out to a team. Through our partnership with Accenture we've added another MVP to our ranks, helping us to strengthen our position as market leader."
ABOUT EVISION
eVision Industry Software is an international software development company specialising in operational safety. eVision has its head office based in The Hague, The Netherlands, with regional offices located in the United Kingdom, Middle East, and United States. eVision has a global partner network and clients on five continents. eVision's flagship product Permit Vision is a complete Safe System of Work package which integrates permit to work software, risk assessment, isolations management processes, and external work order systems into one user-friendly system.