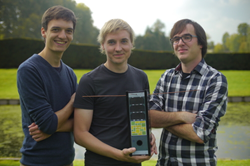 We want to give people the opportunity to express their gratitude for the work of these organizations.
Leuven, Belgium (PRWEB) April 13, 2015
Non-profit organizations are going beyond our pale blue dot and it has nothing to do with NASA's recent prediction that there must be extraterrestrial life (CNN April 8). Three Belgian students of the KU Leuven University in Belgium have taken up the plan to launch the messages of three good causes into space. On their website SpaceBillboard.com, everyone can nominate their favorite good cause and tell them why they think that organization is doing a fantastic job.
"People who work for a non-profit organization put a tremendous amount of energy and devotion into their work and receiving these messages of approval really invigorates them and gives them a boost to keep doing the good work," says Tjorven Delabie, one of the students behind the project.
Writing a message of support might seem less tangible than donating time or money, but the students learned from the people working for a non-profit organization that they love the initiative.
"Nominating a good cause on the website is free and takes less than a minute, so it is a very accessible way to show support for a good cause", says Tjorven.
The initiative is part of a larger project of the students called SpaceBillboard. SpaceBillboard is a non-profit project itself that aims to support the CubeSat (small satellite) research at KU Leuven. These satellites can perform tasks such as forest fire detection, disaster control, etc. The goal of the students is to show that space research can improve our lives on Earth.
"With Earth Day (April 22) coming up, we wanted to set up an action to support other non-profit organizations that make the world a better place," says Maarten Decat. "With SpaceBillboard, we will send messages and images into space on board of our satellite, and we will add the messages of non-profit organizations."
On Earth Day, the students will select three of the nominated non-profit organizations and will later on send the messages of those organizations into space. Once in orbit, they will go around the world every 90 minutes and will eventually pass over every place on Earth.
Hundreds of nominations have already been received and a couple of organizations have started a campaign to rally people for their good cause.
"It's a fun and original way to engage supporters for your good cause and to let people know what you are trying to achieve," says Maarten. "We are happy to see so many enthusiastic responses and are impressed to see the incredible amount of organizations and people that work hard each day to make the world a better place."
You can nominate your favorite good cause(s) on http://spacebillboard.com/#good-causes. After voting, you can share a link to convince other people to vote for your favorite good cause.