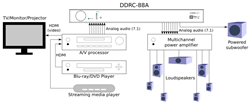 (PRWEB) April 29, 2015
The DDRC-88A is the latest addition to miniDSP's Dirac Live® series. With its ability to process up to 8channel of room correction, it is the perfect fit for existing or new Home Theater installations (5.1/7.1) requiring premier room correction. The 1U rack mountable unit features both unbalanced (RCA) and balanced (Phoenix) connectivity along with front panel control (IR + Rotary encoder).
By simply inserting the miniDSP Dirac Series audio processor in the analog signal chain and utilizing the customized Dirac Live Calibration Tool together with the included UMIK-1 microphone, users can perform multi-point measurements in the listening room using a series of visuals for microphone placement. In-room target curves can be designed and an optimized set of digital room correction filters can be generated and loaded back into one of the four internal preset configurations. The unit can be used for home theater but also commercial AV installations such as Multiroom/Multizone configurations where up to 4 x stereo zones may have independent filters. More information specific to this application can be found on miniDSP's website.
By independently correcting in time as well as frequency domains, miniDSP Dirac Series audio processors affect the impulse response enabling improved imaging and clarity, tighter bass and reduction of room resonances, elimination of early reflections, and reduced listening fatigue. Just measure, compute and disconnect this out of the box room correction solution.
The DDRC-88A (analog input/output) is now available on our webshop and through our dealer network immediately. Check out our product page for more info.
About miniDSP
miniDSP designs, develops and produces high quality audio products for users who seek to create and enjoy the best possible sound. Established in 2009, miniDSP is composed of audio and electronic engineers together with business minds whose passion for music has driven product development and created a passionate client base of audio enthusiasts in over 30 countries worldwide. http://www.minidsp.com
About Dirac Research
Dirac Research is a premier R&D company specializing in high-performance digital sound optimization, room correction and sound field synthesis. The company was founded in 2001 by researchers at Uppsala University, Sweden. With Dirac's patented toolbox for audio system optimization, customers such as Rolls Royce, BMW, Bentley and Datasat Digital Entertainment have achieved dramatically improved sound quality and a shortened time-to-market. Dirac Research maintains offices in Sweden, Japan, USA, China and Korea. http://www.dirac.se