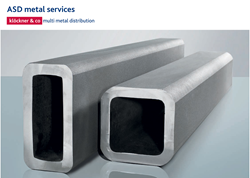 Clint Jones, ASD metal services Director comments "Vallourec is a long-standing and well-respected Key Supply Partner to both Kloeckner in Europe in general and ASD metal services in the UK in particular
(PRWEB UK) 27 April 2015
ASD metal services, the largest mill independent steel stockholder in the UK & ROI, are committed to providing its customers with the best products and services available. This is achievable through our unique global approach supported by our local capabilities. The steadily growing demand for high quality tubes for oil and gas fields is catered for by Vallourec's OCTG Division. ASD metal services are proud to be preferred business partner of Vallourec to distribute their specialist product Oceanfit®.
The Oceanfit® series is a selection of seamless hollow sections, developed exclusively for applications in demanding, aggressive offshore environments. The Oceanfit series consist of fine grain high strength steels with nominal minimum yield strength ranging between 500mpa and up to 900mpa. A very high degree of toughness even at temperatures well below zero and weldability are combined in this series with tested and certified application standards such as EN10225 for offshore construction.
The product can be used for a variety of different applications and in each case it significantly reduces the weight of the final product whilst maintaining the mechanical strength. Oceanfit® - First Choice Above and Below Sea Level Vallourec have five decades of experience in manufacturing hot rolled hollow sections and continuous improvement of their production processes have led to the development of an extraordinary grade: Vallourec's Oceanfit® fine grain steels owe their outstanding properties to the material's microstructure and grain size which are the results of meticulously controlled chemical compositions and advanced heat treatment methods.
Optimally adjusted heating temperatures and cooling rates during heat treatment as well as defined phosphorus and carbon contents are the prerequisites for achieving a homogeneous fine-grained micro-structure in all Oceanfit® steels. And this, in turn, makes it possible to unite three important properties, which had previously been almost incompatible: high strength, good impact toughness, and weldability.
Welding Techniques and Advantages
Oceanfit® 690 and Oceanfit® 890 are weldable by applying all current techniques. The excellent weldability of Vallourec grades is attributable to their fine grained microstructure and a minimum amount of contaminants or accompanying elements. These properties support the manufacture of welded joints with good mechanical properties even in the event of high heat input. In other words, crack free welds with high toughness can be executed even when high-output and economic welding processes are used. Welding and thermal cutting processes must be performed on the basis of the applicable standards and specifications, depending on the intended application.
A Choice of Grades for Subsea Equipment
Vallourec complements its product portfolio of standard grades which are currently available from ASD metal services for hot rolled hollow sections by two Vallourec proprietary grade series offering unprecedented yield strength levels.
For further information about the Oceanfit ® range please visit http://www.asdmetalservices.co.uk/oceanfit or contact Mr Barrie Salter – ASD metal services Director on 01132 540711.
ASD metal services - ENTRUSTED TO DELIVER MULTI-METAL SOLUTIONS