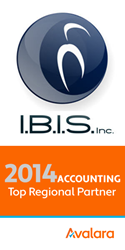 "I.B.I.S., Inc. is an Avalara partner that significantly contributed to their customers' success by partnering with us," said Falle. "We take great pride in recognizing partners that solve critical pain points for our mutual customers."
Bainbridge Island, WA (PRWEB) May 19, 2015
Avalara, Inc., a leading provider of cloud-based software delivering compliance solutions related to sales tax, VAT and other transactional taxes, today announced (name of company, (brief description) as its (name of award) winner.
Avalara's sales and marketing awards, given to top-performing business partners, recognize Development & Solution Partners (independent software vendors), Marketing & Sales Partners (value added resellers), and Accounting & Consulting Partners for embracing cloud compliance solutions and helping their clients and customers to realize the strategic and operational benefits of these solutions.
The Avalara partner awards also spotlight the ability of top business partners to recognize the broad market adoption of cloud compliance solutions, and make intelligent business decisions in marketing Avalara's compliance solutions to their valued clients and customers, thereby increasing the velocity of their own business growth.
I.B.I.S., Inc. was selected for the award based on multiple criteria, including noteworthy performance and customer growth during 2014.
"2014 was a standout year for our business partners across categories, as they continued to realize the benefits of partnering with Avalara," said Patrick Falle, North American channel chief at Avalara. "These top partners demonstrated an exceptional ability to attract new clients and customers, and build customer loyalty – while continuing to develop their practice through offering a full range of cloud-based compliance solutions in partnership with Avalara."
"I.B.I.S., Inc. is an Avalara partner that significantly contributed to their customers' success by partnering with Avalara," said Falle. "We take great pride in recognizing business partners that solve critical pain points for our mutual customers and clients, while simultaneously growing their businesses along with Avalara – and we look forward to many years of continued mutual success."
Avalara awarded Partner of the Year awards in four categories: Top Development & Solution Partner for eCommerce; Top Development & Solution Partner for ERP; Top Marketing & Sales Partner; and Top Accounting & Consulting partner. Avalara also recognized top performing business partners regionally, for their increasing engagement in bringing Avalara solutions to the market and achieving exceptional results in 2014.
About I.B.I.S., Inc.
I.B.I.S., Inc., a Gold Certified Microsoft partner, is headquartered in Atlanta, GA. For more information, please visit the I.B.I.S., INC. website: http://www.ibisinc.com.
Founded in 1989, I.B.I.S., Inc. is an Atlanta-based Microsoft Dynamics Partner focused on Microsoft Dynamics AX, Microsoft Dynamics GP, and Microsoft Dynamics CRM with four Microsoft Gold Competencies, including enterprise resource planning (ERP), customer relationship management (CRM), business intelligence (BI), and application development. I.B.I.S., Inc. works with hundreds of companies globally and has completed over 600 successful Dynamics implementations.
About Avalara
Avalara helps businesses of all sizes achieve compliance with sales tax, VAT, excise tax, and other transactional tax requirements by delivering comprehensive, automated, cloud-based solutions that are fast, accurate, and easy to use. Avalara's end-to-end suite of solutions is designed to effectively manage complicated and burdensome tax compliance obligations imposed by state, local, and other taxing authorities in the United States and internationally.
Avalara offers hundreds of pre-built connectors into leading accounting, ERP, ecommerce and other business applications. The company processes millions of tax transactions for customers and free users every day, files hundreds of thousands of transactional tax returns per year, and manages millions of exemption certificates and other compliance related documents.
A privately held company, Avalara' s venture capital investors include Sageview Capital, Battery Ventures, Warburg Pincus, Technology Crossover Ventures, Arthur Ventures, and other institutional and individual investors. Avalara employs more than 800 people at its headquarters on Bainbridge Island, WA and in offices across the U.S. and in London, England and Pune, India. More information at: http://www.avalara.com