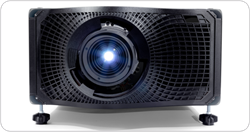 At Christie, we pride ourselves as an industry leader that defines the future of visual display technology by staying abreast of market needs and pushing the envelope of innovation,
Beijing, China (PRWEB) April 12, 2015
Christie®, a global leader in visual display solutions, is showcasing the ultimate knock-out range of leading visual solutions at InfoComm China 2015, which takes place at the China National Convention Center April 8-10.
Resembling a boxing arena, Christie's multi-zone display at booth EB1-01 exudes dynamism and sportiness with the new Christie Boxer 4K30 projector leading the product showcase that is divided into six key areas, namely "Bold," "Observe," "Xhilarate," "Experience," "Redefine" and "Superior" that make up the word "BOXERS." Each zone features state-of-the-art Christie products that are ideal for specific applications.
"At Christie, we pride ourselves as an industry leader that defines the future of visual display technology by staying abreast of market needs and pushing the envelope of innovation," said Lin Yu, vice president, Christie Asia Pacific. "This is why we've strategically positioned our most comprehensive range of advanced visual solutions at InfoComm China 2015 – to deliver the ultimate knock-out with products offering the highest performance and flexibility at the lowest cost with the very best in customer service and after-sales support."
Jason Pei, director of sales, Christie China, added, "InfoComm China is one of the biggest AV tradeshows in China and the perfect platform for us to reach out to our stakeholders from numerous fields through the comprehensive showcase of our advanced solutions. We're confident the debut of 'heavyweight' products such as the Christie Boxer 4K30 and Roadie 4K45 projectors in China will reinforce Christie's position as the global leader and innovator of cutting-edge visual display technologies."
Zone 1 – "Redefine" (Christie Boxer)
Debuting at InfoComm China is the new Christie Boxer 4K30 3DLP® projector, three of which will be live with content managed by Pandoras Box. Designed from the inside out to punch above its weight class, delivering 30,000 lumens, 4K (4096 by 2160) native resolution and weighing in at less than 150 lbs. (68 kg), the Christie Boxer 4K30 is intended for high impact live events and sets a new industry benchmark for rental staging and fixed installation applications. It has six 450W mercury lamps housed in two 3-lamp cartridges, as well as built-in Christie TruLife™ image processing that provides the highest bit depth and fastest frame rate.
Zone 2 – "Bold" (Christie Roadie 4K45)
The Bold Zone highlights the industry's brightest lamp-illuminated projector: the Christie Roadie 4K45. Showcased for the first time at InfoComm China, the rugged, reliable, and road tested Roadie 4K45 will capture attention with a 176-inch projection featuring 4K content. It boasts 45,000 lumens, integrated warping and blending capabilities for world-class projection mapping applications, and Christie TruLife™ electronics for excellent color reproduction and image processing. Ideal for live events and location-based entertainment, the Roadie 4K45 is built for the most rigorous Pro AV requirements. Recent large-scale installations in China using Christie technology include Wanda Movie Park in Wuhan and projection mapping on a giant whale shark sculpture at Chimelong Ocean Kingdom in Zhuhai.
Zone 3 – "Superior" (Christie H Series)
Christie continues to demonstrate its commitment to 1DLP with the new Christie H Series projector, which will be showcased in the Superior Zone. Weighing only 52.5 pounds (24 kg), and equipped with dual lamps producing 12,000 lumens, the H Series is the lightest, brightest and smallest projector in the 10,000-plus lumen 1DLP® category. Christie H Series is suitable for mid-to-large rental staging and fixed applications including concert halls, auditoriums, hotels, boardrooms, education, government, conference rooms and houses of worship. The H Series is not only rugged and bright enough for rental staging applications, it also provides rich, beautiful colors and is well designed for the office. Its small, compact design allows installation in either portrait or landscape mode and delivers a super-quiet, clean, sophisticated look with plenty of presentation power.
Zone 4 – "Observe" (Christie Phoenix and Christie Entero HB 80" display cubes)
Another highlight is the "Observe" Zone featuring a simulated control room environment. Showcasing the Christie® Phoenix™ — which enables seamless access and control of audio-visual data regardless of the user's location — and six 80-inch Christie Entero™ HB video wall display cubes, the Observe Zone highlights how Christie control room solutions are ideal for mission critical environments. A network streaming solution at its core, Christie Phoenix allows users to collaborate, synthesize and generate fast and accurate decisions in the most critical situations while the Christie Entero™ HB Display Cubes are the most customizable video wall display solutions available.
Zone 5 – "Experience" (Car Simulation Demo with Christie Mirage WU14K-M)
A must-see in the Experience Zone is an impressive car simulation demonstration utilizing the Christie Mirage WU14K-M projecting onto a 200-inch screen. Delivering more pixels, more performance, and even more brightness for visually stunning 3D for various applications, the Mirage WU14K-M features 12,500 ANSI lumens from a dual 450W lamp design and up to 2100:1 contrast. With WUXGA resolution and Dual Input 3D offering up to 120Hz native performance, the Christie Mirage WU14K-M is an innovative high performance 3D projector offering crisp, detailed images with excellent color reproduction.
Zone 6 – "Xhilarate" (Christie Brio)
The Xhilarate Zone showcases the versatile Christie Brio Enterprise, which is designed to meet multi-user, multi-location collaboration and allows users to virtually meet, share information and collaborate effortlessly regardless of geographic location. Once connected to the Christie Brio Enterprise node, presentations and high quality media can easily be shared between sites anywhere in the world via IP networks. Visitors will experience powerful collaboration in two separate rooms simulating two geographical locations. The Brio Enterprise node in the first room is complemented with the vibrant Christie FHD651-T 65-inch LCD touch panel, while visuals in the second room are projected on the wall from the Brio Enterprise using the Christie GS Series projector.
Comprehensive Line of Cinema and Business Products
Besides the five themed zones, Christie will showcase its cinema and business solutions comprising its groundbreaking cinema laser projection system, the award-winning Christie® MicroTiles®, its Christie G Series, H Series, Q Series 1DLP projector lines and both the Christie J Series and M Series of 3DLP® projectors. Rounding out the brilliant static display lineup are the Pandoras Box product family from coolux, as well as the Christie Spyder X20, the world's most powerful video processor that provides true flexibility needed for users to display and control content from multiple sources simultaneously.
About Christie
Christie Digital Systems USA, Inc. is a global visual technologies company and is a wholly-owned subsidiary of Ushio, Inc., Japan. Consistently setting the standards by being the first to market some of the world's most advanced projectors and complete system displays, Christie is recognized as one of the most innovative visual technology companies in the world. From retail displays to Hollywood, mission critical command centers to classrooms and training simulators, Christie display solutions and projectors capture the attention of audiences around the world with dynamic and stunning images. Visit http://www.christiedigital.com.
Follow Christie:
Facebook.com/christiedigital
Twitter.com/christiedigital
Christie® is a trademark of Christie Digital Systems USA, Inc., registered in the United States of America and certain other countries.
DLP® is a registered trademark of Texas Instruments.