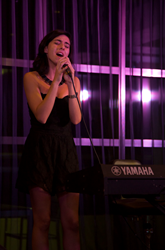 (PRWEB) April 10, 2015
This week Generations Riviera Maya by Karisma was bustling with celebrations, gaining momentum and notoriety as the hot spot for celebrity parties. Adding to the excitement was the unveiling of the first exclusive fan experiences, where stars get up close and personal with guests, celebrating with live concerts and meet & greets.
Jason Castro, top 5 finalist from American Idol season 7, celebrated more than just his own birthday at Generations Riviera Maya, but also the announcement of another child on the way. Castro enjoyed the sun and gourmet cuisine with his family, and then took the stage for a live performance under the stars. Fans were thrilled when he stuck around after the show to take photos, sign autographs and talk with the guests.
The party continued with Christina Grimmie, top 3 finalist from The Voice season 6, who arrived for some well deserved R & R after releasing her new single, Cliché; perfect timing, as she was celebrating her milestone 21st birthday. Christina took time to relax by day, and then brought the house down with a live performance of her new single and a meet & greet with guests at night.
To round out the week, Shanna Moakler, model, actress and VH1 reality television star, celebrated her 40th birthday in style, with a luxurious Gourmet Inclusive® experience. Enjoying the sun, exquisite cuisine and exceptional service, Generations Riviera Maya by Karisma was the perfect retreat.
An amazing week, right? But Generations Riviera Maya says, why stop there? Let's keep the party going! Sony Music vocal duo, The Swon Brothers, have invited their fans to celebrate their nomination of ACM "Vocal Duo of the Year," the release of their new music video "Pray For You," and Zach's milestone 30th birthday, all at Generations Riviera Maya, by Karisma on April 21st, 2015. All guests staying at Generations Riviera Maya by Karisma will enjoy an acoustic performance and meet The Swon Brothers.
For more information on Celebrations at Generations Riviera Maya, please visit http://www.celebrationsatgenerations.com. To get on the A-list and be the first to know about exclusive promotions, contests and star sightings Generations Resorts on Facebook, Instagram, Twitter and Pinterest.
About Karisma Hotels & Resorts:
Karisma Hotels & Resorts, an award-winning luxury hotel collection which owns and manages properties in Latin America, the Caribbean and Europe, comprises an impressive portfolio including El Dorado Spa Resorts & Hotels, Azul Hotels & Villas by Karisma, Generations Resorts by Karisma, Allure Hotels by Karisma and Karisma Hotels Adriatic. Properties have been honored with the industry's top accolades including Conde Nast Traveler's "Top 100 Hotels in the World," Conde Nast Traveler's "Top 30 Hotels in Cancun," TripAdvisor® Traveler's Choice "Best Hotels for Romance," and AAA's "Four Diamond Award." Karisma has received worldwide recognition for its creative approach to hospitality management and product innovations. For reservations and a full list of Karisma properties, please visit http://www.karismahotels.com.
###