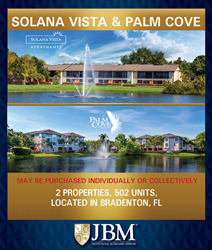 Tampa, FL (PRWEB) April 13, 2015
JBM® launched to market Solana Vista and Palm Cove. The properties offer the ability to obtain 502 multifamily units in the Bradenton area in a single transaction. In addition, the properties are being offered on an individual basis as well. Each of the properties is a stabilized asset with consistent cash flow and high occupancy in a strong Bradenton rental submarket. The properties are located in densely populated areas proximate to major demand drivers and minutes away from major linkages providing access to employment centers, shopping and dining destinations, entertainment, cultural attractions and recreation areas.
Solana Vista completed in 1984, offers an investor the opportunity to acquire an established, 200-unit community. The 17.41 acre site is heavily wooded with grand oaks and lush landscaping. A 3-acre lake provides a pristine setting as well as view premiums to many buildings. The property offers a complete amenity package.
Palm Cove completed in 1987, offers an investor the opportunity to acquire 302 (of 352) condominium units in a well maintained community in the strong Bradenton submarket. The ability to purchase a majority of the units and maintain control of the HOA makes this an attractive opportunity. The Property offers a "best in class" amenity package.
About J BM® Institutional Multifamily Advisors
JBM® Institutional Multifamily Advisors is the most reliable source of brokerage services in the institutional multifamily asset and investment industry with Florida offices located in Tampa, Orlando, and Naples. JBM® specializes in the sale of high-rise, mid-rise and garden style apartment communities throughout the Southeast United States and focuses exclusively on asset disposition services, capitalization and recapitalization of existing and merchant development opportunities of large apartment type portfolios and singular assets for Domestic and Foreign Institutional, Private National and Regional clientele.
The firm's collective team efforts have exceeded $8.9 Billion and over 102,000 apartment units listed, marketed and sold. The firm delivers a strong legacy of excellence in representation and the most effective investment sales platform throughout the Southeast United States, meriting Jamie May and JBM® as a trusted leader in the multifamily industry.
If you would like more information about this property or to schedule an interview with Jamie May, Chairman & CEO or Eddie Yang, Principal and Executive Director please, contact Claudia Raines at 813.812.5003 or email. To learn more, please visit: JBM.com